"We will all be touched by cancer one way or another," Terry Fox said during his 1980 marathon of hope.
Terry, a national hero, lost one of his legs to cancer — having it amputated — and then started on a run across Canada that would change history.
His goal: One dollar toward cancer research from every Canadian.
"I'm meeting people every day who say to me, 'Thank you for my life. Thank you for what Terry did,'" says Terry's brother, Fred, who is 59-years-old, 14 months Terry's senior.
"If it wasn't for him, research wouldn't have happened, and outcomes wouldn't have improved," he says.
Ultimately, Terry wouldn't be able to finish his heroic goal, as the ruthless disease claimed a young man's life.
Since then, over $700M has been raised in Terry's name alone, according to the Terry Fox Foundation, not to mention monies fundraised by other organizations.
Although a cure has never been found, Fred says he remains optimistic for the future, and that outcomes and survival rates have improved exponentially since cancer took Terry's life.
"To anybody who has made a donation to the Terry Fox Foundation, we're thankful," says Fred. "It's important we support what he was doing."
Support doesn't just come in the form of money either, according to Fred, who has now done the (Mount) Terry Fox Trek two years in a row.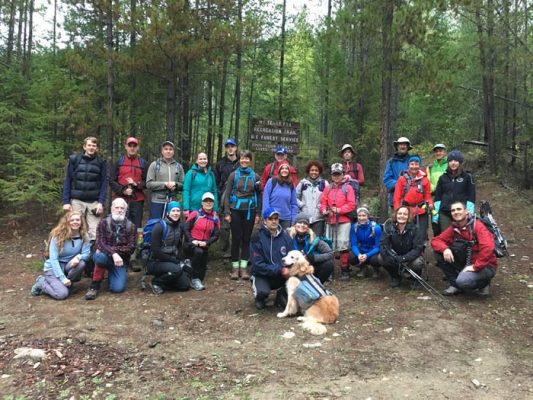 Fred, along with 30 other people did the (Mount) Terry Fox Trek two weekends ago. 16 people reached the summit, in the end.
There is definite symbolism in hiking a mountain, he says, as Terry liked challenges.
"When you hike it — even though it may be a difficult and challenging hike — it is nothing compared to what Terry did in the Marathon of Hope," says Fred.
"There are some pretty steep descents… Then there is shale rock you have to get over. There are so many difficult aspects," he says, noting it's just as grueling mentally.
A monument in Terry's name sits just past the summit, but Fred has been unable to reach it on any of his treks, including this one, due to snow.
"We have a goal," says Fred. "We want to get to monument, whether it's next year or a couple years from now."
Plans for next year's hike are not set yet, as Fred says the Foundation is considering moving the trek to the August long weekend in order to avoid the snow.
There will be a Terry Fox Run held this weekend at Cranberry Marsh, starting on Sunday at 9 AM.
Anyone can participate. Runners start at the Best Western hotel, and there will be a one, five and 10 KM run.
Terry's memory lives on in these annual events, according to Fred.
"Hopefully people come out, and support."