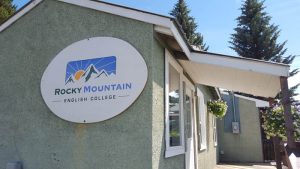 by EVAN MATTHEWS
Though later than originally planned, the Rocky Mountain English College is set to open its doors this July.
The concept has been in the works for over 10 years, ever since Jared Smith went to Costa Rica to learn Spanish.
"I've had the idea for a while and it's taken some time to put it into action," says Smith, the owner, operator, founder and teacher. "It's a sole proprietorship."
The idea, he says, is to open an English Second Language (ESL) school to international students, and then combine the language classes with outdoor activities — similar to the Costa Rican school he spent time at.
The school will accommodate one intermediate English level class. The students must be 19-years-old or older.
The college is opening up for July and August as a trial, Smith says, with the first class being made up of four international students hailing from Mexico, Japan, India and Ecuador.
The program will be less expensive than a university or transferable credit program, and it will offer outdoor experiences, which Smith says will add to the language immersion.
Immersion is simply the best way to learn a language, Smith says, and Valemount offers a great location for it. A person who speaks Mandarin could easily get around parts of Vancouver using their native tongue, which isn't the case in Valemount.
The plan is to make homestay arrangements, or dorms for students enrolled in the program.
"We have agents living overseas trying to recruit students," says Smith. "This is mostly to attract new people — students are coming from overseas specifically to study here — but it is open to locals working here already."
Although there is no governing body overseeing the operation and no accreditation associated with the college — it's not required — and Smith says accreditation is more of an assurance that the schools are bonded, and that the students get what they paid for.
He notes accreditation is a daunting task for a small school, and the process is set up more for large schools that can afford it.
While the school offers no certification, after completing the course, Smith says the students will be prepped to take one of the standardized English language tests recognized by schools and workplaces around the globe.
Smith is also currently working as the ESL and Settlement Assistance with the Valemount Learning Center, a job he says that has set him up perfectly for a situation such as this one.
"It's really prepared me. I'm already working with international students, and I've got a lot of context that way," says Smith. "I'm a TESOL Canada certified English instructor, and that helps too."
According to some estimates at least 1.5 billion people are currently trying to learn English around the globe. English is the second most widely spoken language, after Mandarin with 500 million speakers worldwide.