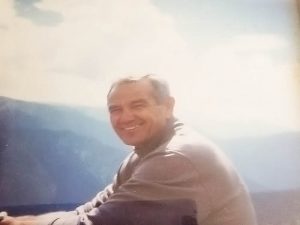 By Elizabeth (Tuggle) MacLean
For the past 40-odd years, Valemount's Grade 7 students have embarked on a five-day journey to one of the most spectacular places on earth – Berg Lake.
It's 40-km round trip and requires the kids to carry heavy packs with tents, sleeping gear and food.
The trip was started by Gale Tuggle around 1975 soon after he started teaching in Valemount.
Tuggle had experience with a survival school down in Pinedale, Wyoming, were he had taught as a P.E. teacher and football coach. He says he wanted to extend the survival school to this beautiful area.
Tuggle started taking elementary students on hikes in and around Valemount. He then planned a trip to Kinney Lake with the Gr. 5 class along with Lois Kimmel (the other Gr. 5 teacher) and Ella Fry (a local female trapper). Fry regaled the adults with stories from the past, when she rode with the Dennison Ranch located roughly where the Mt. Robson gas station is now. She talked about the Dennisons and the Hargreaves and the good-natured rivalry that existed between the two families.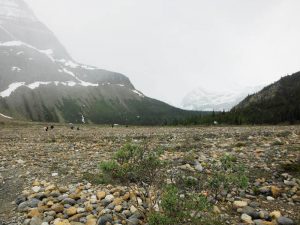 The trip was a success and in 1976 the same class, now in Gr. 6, went all the way to Berg Lake. Evelyn Olofsson and Rev. Norm Walker joined Gale as chaperones. The weather that trip was cold and cloudy. Close to Berg Lake, snow was still present in the shadows. Then it started to rain. Some had rain gear, but most donned garbage bags. The chalet up at Berg Lake was absolute heaven, Olofsson recalls. The Cochranes had a belching stove to huddle around and a clothesline to string wet clothes upon! The class then went to Adolphus Meadows after promising Ishbel they would return for homemade ice cream.
They hiked back and one of the guides lassoed an ice berg for the ice! They hand-churned the ice cream and were so satiated, Olofsson remembers.
Olofsson describes how the Valemount kids had the "Nelson pack" also called a "packboard;" it had canvas and boards that laced up in the middle.  In those days, many kids packed full tins of vegetables rather than today's freeze-dried fare and wore tennis shoes rather than hiking boots.
Teacher Karen Doughty still remembers going with Tuggle in 1993, before he retired, and says they stil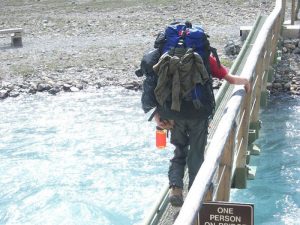 l follow the same itinerary as the 1993 trip.  She carries on the ice cream tradition with the same wooden ice cream bucket stored at the ranger station. They also continue the great belly flopping contest in Adolphus Lake (weather permitting).
She says this year they didn't make it to Adolphus as it was snowing both days they were staying at Robson Pass. They still hiked to the toe of the glacier in very strong winds to pick off some ice to make ice cream in the same old ice cream maker from the Mt Robson Ranch days, using cream, eggs and sugar.
Doughty, who has led the trip since 2002, says the trip is a major bonding experience for the Gr. 7 students before they head to high school.
"One student told me she never wanted Berg Lake to be over because everyone was friends when they were there; when we went back to school it would all be different again with everyone in their own little groups," Doughty s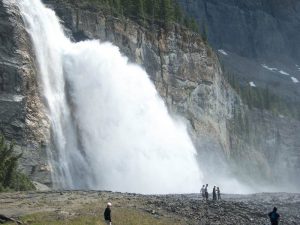 ays.
Numerous parents and grandparents have come through the year to volunteer their time and most of them return to Berg Lake.
"There is a big sense of achievement when the trip is over when the students realize what they have accomplished," Doughty says.