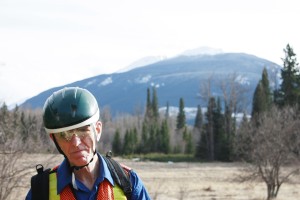 by EVAN MATTHEWS
Vern Pawloske will not be doing his hike-and-bike in support of the McBride and District Public Library this year.
The library and museum boards had expressed concern for the health and safety of not only Pawloske, but volunteers as well, over a 500 km hike and bike, according to Naomi Bella-Boudreau, the library's director.
This year's plan, according to Pawloske, was to hike-and-bike to Jasper, Valemount and back to McBride without stopping.
"There was a miscommunication between the two of us, and for that we apologize," says Naomi Bella-Boudreau, the library director. "Together, we've agreed to postpone the long trip and focus on other projects."
Last year, Pawloske hiked-and-biked 200 km to Kinney Lake, hiking to Adolphus and returned to his home outside of McBride in under 24 hours. In doing so, he raised $7,000 for the library and museum's expansion project.
"We were very grateful," says Boudreau. "The library, museum and Vern are happy to work together in the future. We appreciate how he continues to volunteer for our community in many ways."
As initially reported, Pawloske is planning a major trip regardless, but it may get pushed back until 2017 as he searches for the support of volunteers, according to Bella-Boudreau.