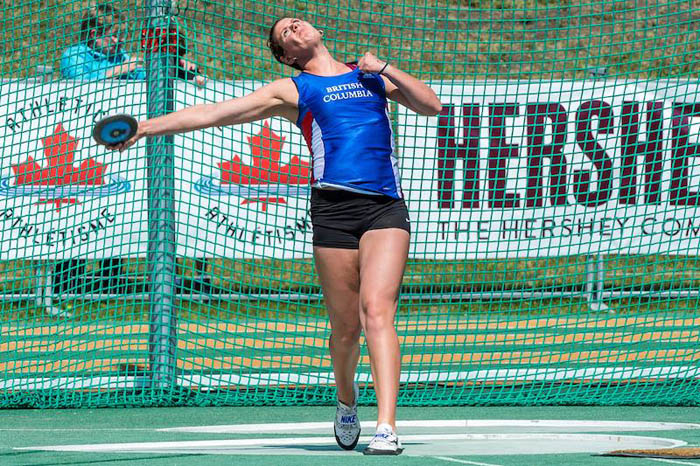 by LAURA KEIL
McBride, B.C. is the hometown to the new reigning champion of the Canadian Championships discus title. University of Minnesota junior and McBride native Agnes Esser won the discus national title at the Canadian Championships and Rio Selection Trials in Edmonton last week.
Esser's best throw of the day came on her fifth attempt in the final with a winning mark of 50.32m. After throwing 47.27m on her first attempt to finish fourth in the first round, the top nine advanced to the final. Esser then moved into first place on her fifth throw, edging runner-up Brittany Crew's (York University) throw of 49.22m. Esser placed 5th in the hammer throw final.
A Minnesota Gophers post says she was the top collegian and had a great series considering she is only 20 years old and has only trained the event for 20 months.
"The competition in Edmonton was a lot of fun," Esser told the Goat. "I didn't quite perform how I would have liked to but it was still a great experience to be able to compete among Olympians."
Following the Canadian Championships and Rio Selection Trials, Athletics Canada and the Canadian Olympic Committee unveiled Canada's team for the 2016 Rio Olympic Games, though Esser did not qualify this time around.
This weekend, Esser is headed to El Salvador to compete in the NACAC Under-23 Championships.
The event in San Salvador, El Salvador, July 15-17 is put on by the North American, Central American and Caribbean Athletics Association. The hammer throw final is set for 3 p.m. CT Friday, July 15th with the discus final to follow at 5:05 p.m. CT.
While Esser describes the San Salvador competition as "a low key international competition" since it only includes athletes born in 1994, 95 and 96, she says she's still excited.
"It will be fun to see another part of the world."