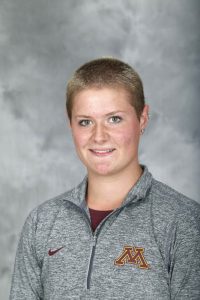 by LAURA KEIL
Four years ago, McBride's Agnes Esser tried throwing a discus on a whim. Her cousin Joanna Franke-Kuhn, another McBride native, had gotten a scholarship to the University of Hawaii for the Hammer Throw event, and Esser attended one of their meets, throwing the discus around just for fun.
In Grade 10, Esser moved to Vancouver Island and started competing in both shotput and discus. At age 17, she was crowned Canadian shot put champion in the under 18 girls category and established a new record at the Legion Canadian Youth Track and Field Championships. She also won a bronze medal for discus.
On Saturday, 20-year-old Esser will compete against the best female college discus throwers in the U.S. at the National Collegiate Athletic Association (NCAA) Championship in Eugene Oregon.
It's Esser's second year on the Golden Gophers Track and Field team at University of Minnesota, where she is studying Physiology and Art on a track scholarship.
In May, she competed in the Big Ten Track and Field Championship in both hammer throw and discus.
At that meet she not only qualified for the NCAA Championship but also broke the record in discus for the Minnesota Gophers, throwing a distance of 57.91m (for comparison, the world record is 76.8m)
"What Agnes did today was just unbelievable," her coach Matt Bingle said. "After the year she's had, it's just so well-deserved. She's got heart and guts, and I just couldn't be happier for her."
In an interview Monday, Esser said both discus and hammer throw are technical events. That means it takes a combination of force and accuracy, she says.
"It's more knowing where your body is in space and time, other than just being explosive with your muscles."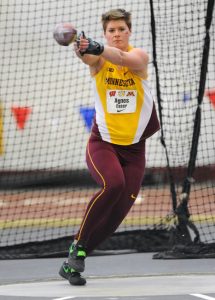 She compares the sports to a puzzle, where there are numerous pieces to make it work.
"You keep having to put these little pieces together to get the whole thing and sometimes you have to try something else to make it work."
It appears success in track might run in the family, as her cousin Franke-Kuhn captured medals at several meets and qualified for the NCAA West Preliminary Round in the hammer throw in 2013, but fell short of qualifying for nationals.
While there wasn't a track team at McBride high school when Esser attended, she says there is a program there now.
"It gives kids another chance to participate in a sport."
She's one of eight female track and field athletes from the university to compete at Nationals. She competes on Saturday at 3pm. The championship will be broadcast on ESPN.