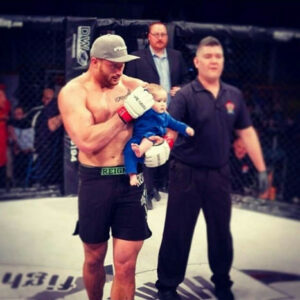 by EVAN MATTHEWS
A man who grew up in Valemount will soon have his chance to fight on the biggest stage in amateur mixed martial arts (MMA).
Kyle Francotti, now a Grand Prairie resident, will head to Las Vegas to compete on July 6, but the path he's been on to get here has been an unusual one, and not without obstacles.
In order to qualify for the IMMAF World Championships, the number one ranked amateur heavyweight champion, Francotti, had to beat two opponents at the end of May in Lethbridge, AB, but both opponents backed out, he says.
"Normally you would have to fight to qualify, but I have a 5-2 record," says Francotti. "I was vouched for by one of the committee members. I was passed through and qualified for Worlds."
Because the committee pays for half the trip, Francotti says they won't sponsor a person if they're not expected to do well.
One might ask, how could the highest-ranking amateur heavyweight fighter in Canada not do well?
In November of 2014, Francotti was on his way to a title fight in Calgary. He says the fight was supposed to be his last amateur fight before he turned pro.
"I already had so many fights, and the Calgary commission required an MRI before my fight to make sure everything was okay," says Francotti. "I did the MRI, and went home, and everything was fine."
Shortly after, Francotti says he received a call asking him to re-do the scan, as the original had complications. He was told there was nothing to worry about.
After his second MRI, Francotti says he went back to his hotel to get ready for weigh-ins. The commission was happy, and Francotti says he had to see one more doctor for a quick check-in before his fight.
That doctor diagnosed Francotti with a brain tumour.
"I was kind of in denial," says Francotti. "Because of the tumour they gave me an indefinite suspension, which means you can't fight until everything is good. I couldn't fight."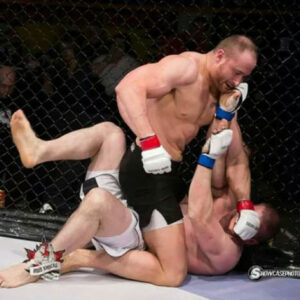 A couple teammates had to fight, so Francotti says he helped them get ready. He drove home after, and saw his family doctor — hoping for a better prognosis — it didn't come.
Francotti's tumour worsened.
One year from Francotti's original scan, a doctor told him the tumour had grown and they needed to do an emergency surgery.
In life saving fashion, Francotti's doctor removed the tumour.
"I would say I'm about 85 per cent recovered," says Francotti, who is also a father of a near two-year-old son.
"I'm at a point where I'm cleared to fight and I'm back to work 100 per cent. There are a few little things that will heal over time, and this is like a year or two of rehab.
"My balance still needs to come back 100 per cent, just tiny things," he says.
Eighty-five per cent isn't 100 per cent, but Francotti says he's more than ready. Even before the tumour, he says he was never 100 per cent healthy going into a fight.
Due to training camp, fighters always end up with bumps, bruises and scrapes, he says.
"I work so hard, and I'm so driven and determined at trying to be the best I can be," says Francotti. "Even at 85 per cent — I know I'm going to win. You just have to find the mental toughness and push."
However, with a wife and child, Francotti — who also won B.C.'s strongest man in 2010 — says he now knows there is more to life, and his health complications have led him to live a much more appreciative and humble life.
"Every day is a gift," says Francotti. "I have to live my life that way."
Even though MMA is just a hobby for Francotti at this point, the next step, he says, is to turn pro.