by Andru McCracken
---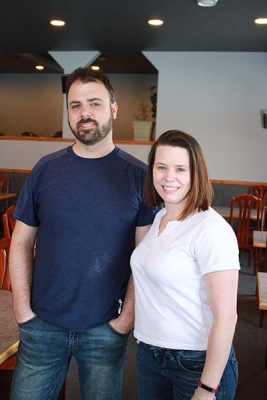 Brett and Christine Scott are the owners of the new Scooters Restaurant located in the Valemount Hotel. They relocated from Grand Prairie, but originally hail from the Okanagan. It was on their frequent trips back home that they took an interest in Valemount.
"We want to set ourselves up to be somewhere we want to be," said Brent.
He said they fell in love with Valemount and downhill biking, taking time to get some laps in while travelling back and forth between Grand Prairie and the Okanagan.
"We like to get outdoors now that our kids are a little bit older and more independent."
The Scott's have three daughters, one of which is still at home and attending Valemount Secondary School.  They are fans of the small school. The high school in Grand Prairie had 1200 kids. Ten days after they moved they got an email from the teacher in Grand Prairie saying their daughter is in jeopardy of failing if she doesn't show up.
In Valemount they get a call if she isn't in school by 9 am.
"She's got all the attention in the world," said Brent.
Brent worked as an insurance adjuster in Grand Prairie.
Christine Scott worked in property management and lately property restoration.
"We kept coming back here, over and over, and everytime we came here there was no pizza place," said Brent.
The Scotts are a huge fan of the Valemount Bike Park and biking and other outdoor pursuits factor into their schedule.
"We're looking at being closed Mondays and Tuesdays so we can get a couple laps in."
The Scott's also ski tour, though they've only had a few chances to ski so far, they are looking forward to more.
Scotts say that the vibe in Valemount was part of the attraction.
"Everyone here is just so open and friendly and helpful," said Brett.
Scooters is open with a limited take-out menu for now. They expect their pizza oven to be operational towards the end of February.