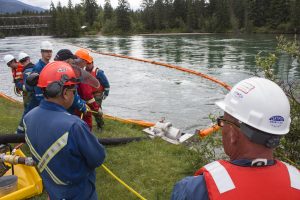 by LAURA KEIL
The National Energy Board has given its approval to the Trans Mountain Expansion Project to triple the capacity of Kinder Morgan's Alberta-BC pipeline.
While the federal government has yet to grant the twinning project the green light, it's high time to think about the local consequences of such a massive construction project.
Many locals can remember the boom that occurred when the company expanded through Mt. Robson Park which was completed in 2008. Grocery aisles were cleared out and it was tough to find a place to rent, nevermind an affordable place to rent.
But businesses shouldn't assume the benefits of the expansion will flow naturally to them. It's already time for local people to position themselves in order to secure one of the many contracts that will go out if and when the government grants final approval.
Kinder Morgan says they are asking those interested in vendor and suppliers procurement and employment to sign up on their website at https://csi.kindermorgan.com/csi/
The company says it will collect names and when we can provide more information about opportunities those who registered will receive more information via email. Kinder Morgan says it has already collected hundreds of business names and contacts wishing to bid on contracts.
While exact information on local contracts is not yet available, contracts could include vendors and suppliers for heavy equipment, construction supplies (fencing, portable toilets, gravel/soil, gloves/boots/safety equipment) trucking, food/catering, landscaping, IT, laundry, first aid, traffic control and many more areas.
Are you in a position to offer equipment or expertise for the pipeline work? Check the list of categories on the "csi" website above.
Additional information about jobs can be found on the Trans Mountain website at http://www.transmountain.com/jobs including an overview of the job opportunities that will be available during construction, along with employment requirements and qualifications here: http://www.transmountain.com/uploads/pages/1412049150-Jobs-brochure-Final-web.pdf.