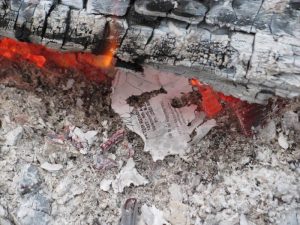 by Evan Matthews
Schools are typically accustomed to fire drills, but very rarely does a school intentionally set a fire. However, this past Saturday, the Dunster Fine Arts School Society watched its mortgage go up in smoke, as many gathered together to witness.
In November of 2010, the newly formed society signed the school's mortgage, to take over ownership of the vacant building from School District 57.
The mortgage was a seven-year-mortgage worth $39,500, or $44,000 with three per cent interest.
It was due by November 2017.
Pete Amyoony, the society's treasurer, says they finished the mortgage payments 18 months ahead of schedule due to fundraisers like concerts, movies, art shows, the Mother's Day Yard Sale and a burger booth a the annual Robson Valley Festival.
The society is now looking for a long-term plan in order to make the school self-sustaining, according the Chair of the Board, Nancy Taylor.
"We have a lot of ideas, as we've had conversations about what we want to see," says Taylor. "We want to generate enough revenue that we can create a job and hire someone to coordinate whatever activities we can get going there."
One of the main ideas, according to Taylor, is using the schoolyard as a campground and youth hostel. She says they hope to attract cycling tourists.
The ultimate goal would be to have the grounds be an ecotourism centre in summer, and a more community-oriented centre for locals in winter, Taylor says.
"It'd be a low impact, low (carbon) footprint type of campground," says Taylor. "Not a place for RV's, but more a place for tents and backpacking — that type of population."
While the long-term financial sustainability is still up in the air, Taylor says the immediate goal is to give a facelift to the building. The society is working on gathering the funds, she says.
Once the facelift happens, Taylor says the society will begin to market the building within the region as a venue people can rent.
First and foremost, the building is still a school in the broad sense of the word, she says.
"It's an amazing place for learning, and very holistic," says Taylor. "I'm not sure what the magic is, but I think it's a sense of community.
"It's not always easy, but we have a collective vision of the kind of place we want to live in — we try and create that together," she says.
The school, which celebrated its 100-year birthday last year, has seen upward of five generations pass through its doors.
"Some of them were here on Saturday," says Taylor. "Students in their 50s and 60s now. It's a very diverse group of people."
The hope is the schoolhouse will have its doors open for years to come, Taylor says.