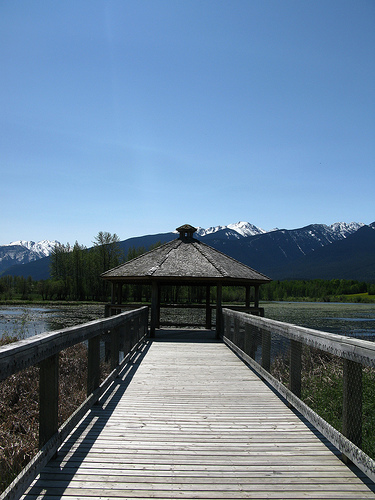 By LAURA KEIL
Birds at Horseshoe Lake may be quacking more happily thanks to some upcoming work by Ducks Unlimited and the McBride Chamber of Commerce.
Bruce Harrison, a biologist with Ducks Unlimited Canada, says the water control structures have reached the end of their lifespan and need to be replaced – a project that will cost anywhere between $50,000 and $100,000.
Harrison says they have most of the funding in place and aim to undertake the work in September 2016.
The original water controls were installed in 1989 together with several hundred metres of diking. The controls help maintain a relatively constant water level on the lake and to prevent the Fraser River from flooding the lake during high water and disrupting nesting.
While locals used to enjoy canoeing on Horseshoe Lake, recently the lake has become filled with water lilies which makes boating difficult.
Harrison the new water control structures could help with the lilies by ensuring better management of the lake level. He says the existing water control has been operated in a "conservative fashion" in recent years to lessen risk.
"With a new structure we will have the ability to manage water levels in a more flexible manner and be more responsive to local water conditions," he says. "This will allow us to better optimize water levels for bird use, and possibly also for controlling water lily growth, although that is a bit more difficult to do."
Clara Appleby, of the McBride Chamber of Commerce, says the Chamber is working with Ducks Unlimited to stabilize water levels – which is good both for humans and ducks.
She says next year, pending funding, Robson Valley Tourism, a sub-committee of the Chamber, will work with Regional District and local contractors to revitalize the public area at the bird sanctuary. On the wish list is lily pad removal, increased parking area and more visitor amenities, she says.
Currently the park has a boardwalk, gazebo, picnic tables, and interpretive signage. Picnics and bird watching are two popular activities.
Appleby adds the Chamber just approved a bid to install a wheelchair access ramp at the park, which they hope to complete this spring.
The Chamber hires a local company to maintain the public area at Horseshoe Lake; this includes general cleanup and lawn maintenance.