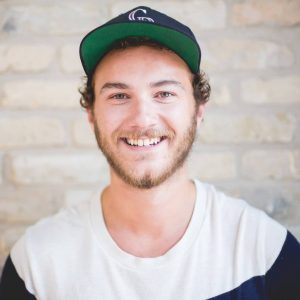 by EVAN MATTHEWS
Has anyone been asking, 'who is the new guy in town?' Well, if you have, let me introduce myself.
My name is Evan Matthews. I'm 25-years-old, and I come from Friendly Manitoba, where I was raised in Winnipeg.
Why did I come to Valemount? I came because I'm pursuing a lifelong dream. I came because Valemount is the most recent stop on my road.
I'm a journalist, and I've just started as Editor of The Rocky Mountain Goat Newspaper.
I knew from the age of 14 I was going to pursue a career in journalism, but it took me a while to get going.
When I graduated from high school, I wasn't ready for college or university, but I wanted a change of pace. At 19-years-old, I moved to Fernie, BC.
I spent almost a year there, and I loved the environment. I spent time skiing and I worked at one of the local ski shops. I lived in a house of 12 ski bums from countries all over the world including Australia, New Zealand, Sweden, Scotland and various parts of Canada. We were just trying to soak in all the beauty BC, and Fernie specifically, has to offer.
I loved — still love — the pace of a small town, but I knew I had more to offer.
As much fun as I was having, I felt I wasn't advancing enough in my professional, personal and creative life. I moved back to Winnipeg with one goal in mind.
I commit to my goal of becoming a journalist. At 21, I applied to the Creative Communications program at Red River College. I spent two years rounding out my multimedia and communication skills. I spent my second-year of the program majoring in journalism.
I've helped produce an award winning short film, and spent time working for some of Winnipeg's largest publications including the Winnipeg Free Press, CBC and Metro News Winnipeg.
In June, I'll be back in Winnipeg to accept my diploma, but I'm excited to come right back to Valemount and the Robson Valley and start my full-time life in this beautiful area with my lovely partner, Madeline.
I think I'm laid back and approachable, and I love having a good conversation with anyone. I love to read, write, ski, hike, work out, run and have the "occasional" beer.
Many residents have already expressed optimism surrounding Valemount's future. No matter what comes next for this valley — I'm excited to be a part of it.
I look forward to getting to know as many of you as possible, and sharing the stories helping make Valemount, McBride and the Robson Valley all that it is.
Thanks for having me.