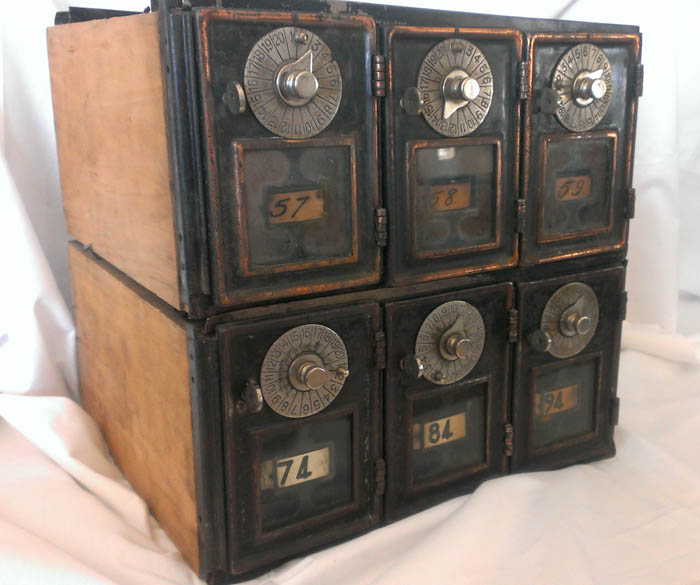 Lamming Mills postal boxes
LAMMING MILLS POST BOXES
In 1945, Mile 5.4 with its six-car siding, was founded and named Lamming Mills. Designed as a temporary town with houses on skids, the town built up around the mill founded by Oscar and Ernie Lamming and their wives Nellie and Wilma. The Lammings came to the McBride area in 1943, after buying the logs and timber from Adrian Monroe who had recently experienced a fire that had wiped out his mill. Bringing with them many of their Rocky Mountain House employees, the Lammings relied on a portable mill until 1946, when a more permanent mill was put in near the town site of Lamming Mills.
Land for these houses was mostly cut and cleared by hand, with the wood stacked for later use. At its heyday, Lamming Mills had around 250 residents and about sixty homes most with white picket fences around their flower and vegetable gardens. Wooden sidewalks connected the buildings and the residents formed a tight knit community with the mill and the Seventh Day Adventist Church at its heart. The community quickly established a two room school, as well as a post office and store.
As newer houses were added, they too were put on skids, with the understanding that wood for the mill wouldn't last forever, and eventually they would need to move their homes. With improvements in hauling and road building, the life-span of the mill at that location was much longer than its originally projected five years. Unfortunately, the portable nature of these homes reduced their life spans, as the log skids on which they sat started breaking down. By the 1970's there were still several families living in Lamming Mills, while many had bought land of their own and moved to nearby properties. Fires swept through the town site a few years ago and sadly, very little remains of the town today. Fortunately, the families that comprised Lamming Mills have retained a strong sense of community (even without the buildings) and have endeavored to preserve as much of its history as possible.
These post boxes from the Lamming Mills Post Office were rescued and donated to the Museum by Robert Frear. They stand as a testament to the thriving community that existed at Mile 5.4 and to the men and women who had such a tremendous impact on the area.