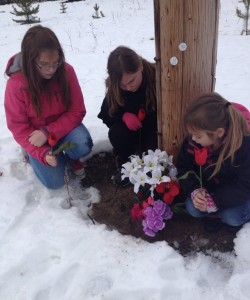 by KORIE MARSHALL
Duska Olson and her family now have one answer about her father who disappeared in 2007. The remains found near Valemount in 2014 have been identified as those of her father Richard Olson. But Duska and her family still have questions.
Duska last spoke to her father over the phone in October 2007. She was still living in Edmonton, where she had moved with her mom after her parents divorced. Richard was a bit of a loner, Duska says, and often hitchhiked in BC and Alberta. But it was very unusual for him to go so long without contacting his mother Lucy Olson. It was Lucy who started worrying first, but kept hope all along that maybe he was in a rehab centre somewhere, or off in Mexico like one local RCMP officer at the time suggested to the family. But Duska felt in her heart that her dad had been murdered. And she is sure someone knows something about it.
After he went missing, Duska put up posters from Edmonton to Valemount, asking for any information about what might have happened to him. One time all of the posters in Valemount were removed by the next day; she doesn't know by whom or why.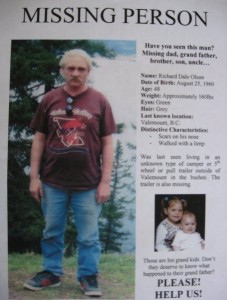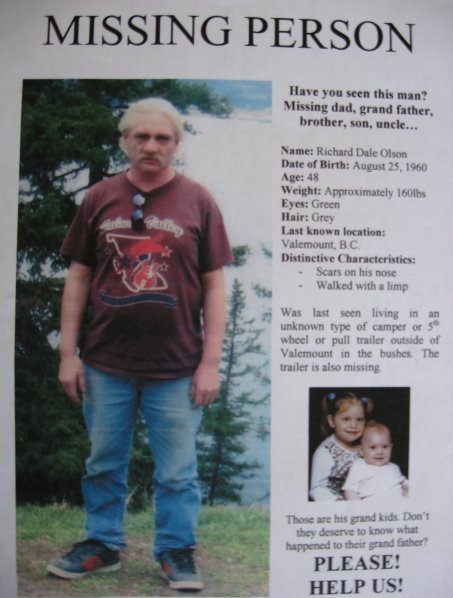 In May 2014, a Robson Valley resident located skeletal remains while surveying in an area just west of Valemount. They were confirmed to be human, and a large scale search of the area was conducted over two days, involving the Coroners Service, Search and Rescue, local volunteers, and local RCMP as well as the Dog and Forensic Identifications sections from Prince George and Air Section from Kamloops. Valemount RCMP said there are historic missing persons cases for the area, but would not speculate on the possible identity.
When she heard about the remains, Duska says she felt the potential for relief, that she might finally have found her father, but knew there was a chance it might have been someone else.
"But up the Westridge? It's got to be him." That is where her father had been living in his camper. The camper was stolen shortly after Richard was reported missing. It was later found down the west side of Kinbasket Lake.
"People knew I was looking for my dad, and when I came to Valemount, locals told me there is a camper down the west side, that it might be my dad's. I had to go see it."
In it, she found her father's bank card, a bank statement from October 2007, his prescription, his favourite vest, and some model cars. Everything else was missing, and the trailer had been trashed, its back end shoved into the trees, but she felt maybe someone wanted her to find it.
Duska was frustrated that local RCMP at the time didn't seem to take Richard's disappearance seriously, even after the discovery of the camper. Yes, he was an alcoholic, says Duska, and he'd gotten a big payout from an accident he'd been involved in. But that money was gone, and at the very least, he would have been looking to friends or family for money or smokes. He would have been cashing disability cheques. He would have called her. She says RCMP later confirmed there had been no activity on his bank account since October 2007.
There was so little information at the time, and there had been nothing new for so long.
"It was really hard not knowing anything," said Duska. She'd get bits of information sometimes, like that items were found where Richard used to live that didn't belong to him, but she wasn't told what they were, or how they knew they weren't Richard's.
"We had nothing else, no one could give us any information," says Duska, so she tried speaking to psychics. She's been told that it was an argument, that it wasn't intentional, but her father was stabbed in the stomach. He died of the wound and then his body was moved to somewhere near water. She was told he is all over the mountain. Now she knows that part at least is true.
When the remains were found in 2014, Duska says she was told the DNA analysis would take six months. But it's taken almost two years to confirm the partial remains were her father. She's given a DNA sample twice for comparison. The Identification and Disaster Response Unit of the BC Coroner Service needed help from the International Commission on Missing Persons to produce a DNA profile for Mr. Olson from the fragments of his skeletal remains.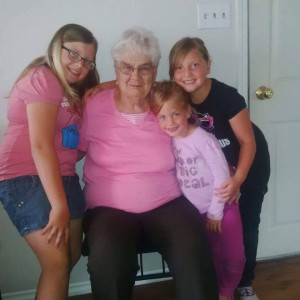 "I'm happy we can bury part of him now," says Duska. The family has already had a service for Richard. They will now bury the remains they receive this week and install a plaque at a plot in the Valemount cemetery. But there are still so many questions.
The North Division Major Crime Unit is still investigating the case. A cause of death has not yet been determined.
Duska says there has been so much talk over the years, she's heard so many stories from locals; there could have been some grain of truth in one of them.
"We deserve justice," says Duska. "Someone knows something. Maybe they will finally come forward on their death bed."