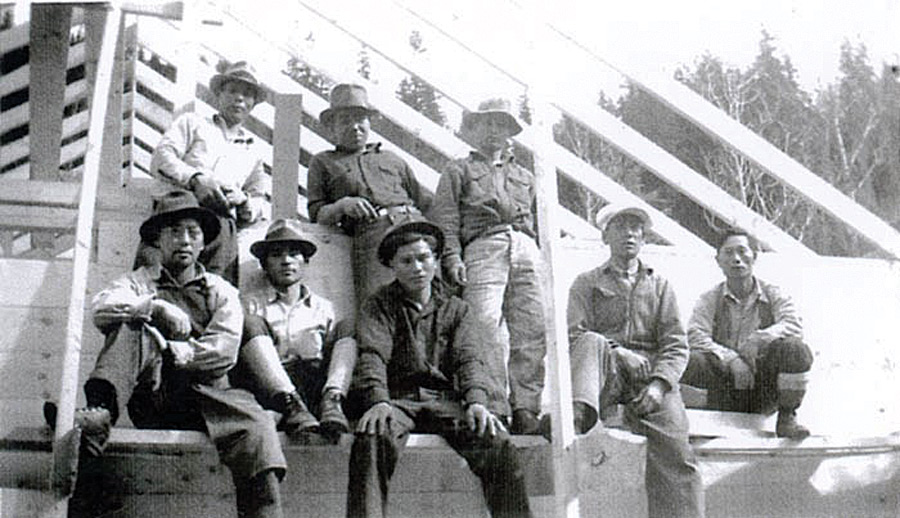 I just came off a tour of Japanese Internment Camps this past week.
On the last day heading towards Lillooet, the Research Archivist from the Nikkei National Museum Centre gave us a history of the Japanese road camps.
My father was sent to a roadcamp in 1942, but I didn't know what that was. I was 3 years old.
A number of years ago after he passed away, I found some notes written by him which named Lempriere but didn't identify what that was.
Linda named a list of roadcamps on the Yellowhead-Blue River Road project.
Lempriere was named.
This opened up new interest in our internment which began in Hastings Park in Vancouver, to New Denver to Tashme and then on to Neys, Ontario.
I looked up the websites last night to get more information and opened up your site.
Finding 19 lost Japanese labour camps: Testing the limits of Google Earth.
I scrolled down and found a beautiful photo of 8 men sitting on [something] (building materials?)
And there is my father sitting on the end on the right hand side.
This is a part of our family internment history that I did not have.
A huge missing piece.
A very emotional moment.
Thank you and the author/researcher of this article.
Kim Yamada
Mississauga, Ontario