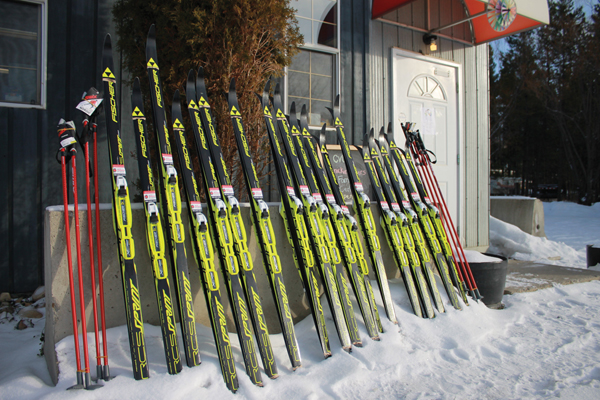 Photo by Korie Marshall – Thanks to a Northern Health grant, Kinnickinnickers, and some savvy shopping, eighteen pairs of youth skis, boots and poles are ready and available to hit the snow.
by KORIE MARSHALL
With the help of a grant and some better snow conditions kids aged 6-12 will get a chance to try out cross-country skiing this year.
Last year, Kinnickinnickers Family Centre, run by the Canoe Valley Community Association, received one of Northern Health's Imagine Grants to purchase skis for its Active Living Kids program. But it took a while for the skis to come in, says program coordinator Diana Smith, and there wasn't good snow conditions in the valley bottom last year anyway.
This year, snow conditions are looking much better. Eighteen pairs of skis, boots and poles arrived just before Christmas, offered at a great discount from Jasper Source for Sports, says Smith. The program will start in mid-January, and will run for six to 10 weeks, depending on snow quality. Volunteers from the Yellowhead Outdoor Recreation Association will work with staff from the Family Centre to instruct children, starting out in the Village's Sports Plex. They also hope to start renting out the ski sets for kids aged 6-12, and hope the rental fees will allow the purchase of more sets for wider use.
The Active Living Kids program is also partnering with the Valemount Curling Club to offer the Junior Curling program. The program will run Tuesdays after school, starting on Jan. 12. Kids aged 6-8 will be on the ice from 2:30 to 3:15, with kids aged 9-12 on the ice from 3:15 to 4:00.