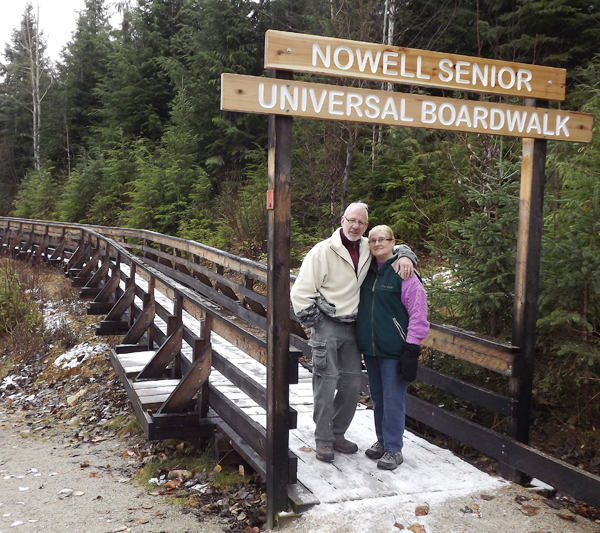 Submitted by the Caledonia Ramblers
The Caledonia Ramblers Hiking Club Society and friends have honoured Nowell Senior by renaming part of the Ancient Forest Trail in his honour.
Club members and others have renamed the a portion of the trail, known as the Universal Boardwalk, as the "Nowell Senior Universal Boardwalk" to recognize Nowell's inspiring vision and untiring effort to help build the trail, 115 km east of Prince George.
The Ancient Forest Trail would not exist without the incredible support of many volunteers, financial sponsors, corporate contributors, and government agencies. Above all, Nowell's vision, leadership, and dedication stand out.
"We can think of no better name for the Universal Boardwalk than to name it after Nowell," said Tim Gardner, on behalf of the Ramblers. "The breathtaking realities that now are the Ancient Forest Trail and the Universal Boardwalk largely exist only due to his imagination, determination, and drive."
Nowell has been involved with the Ancient Forest Trail since the beginning in 2005. He, along with Rambler Dave King and residents of Dome Creek, were part of the original group that envisioned a public recreational trail among the ancient cedars. A few months later, volunteers plotted a route and work began. The Ancient Forest Trail officially opened on September 24, 2006.
Over the past nine years, Nowell has carried lumber, hauled stones, hammered nails, sawed wood, installed signs, and cleaned the facilities. And more. He's also written grants for funding, ordered supplies, and organized volunteers, among many other background activities.
During those nine years, Nowell's also made over 400 trips to the forest, and has contributed more than 5,000 hours of his time.
Nowell often talked about providing easier access to the forest. He spent many years working with youth who had physical disabilities and wanted them to be able to experience the wonders of the ancient cedars. This idea inspired what was to become the Universal Boardwalk, a raised trail that is 457 metres long and fully wheelchair accessible.
It took four years, 193 volunteers, and over 6,000 hours to realize Nowell's vision and the boardwalk that now bears his name.
A special event to honour Nowell will be held this Friday, November 20, 2015, from 6:30 to 7:00 pm at the Spruce Capital Seniors Centre, 3701 Rainbow Drive, Prince George. Everyone is welcome to attend.