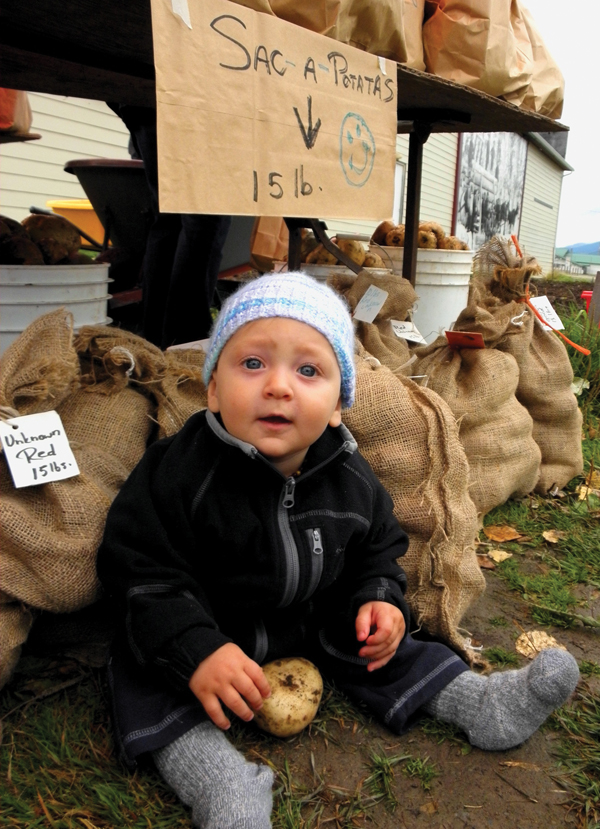 By: Monica Marcu, Contributor
The humble but nutritious potato was the centre of attention in McBride last Saturday. The Open Gate Garden, a non-profit organization of local gardeners organized their annual potato digging and sale event. We could not miss it! From young babies to veterans of the land such as Vernon Pawloske (whose family is known to have fed the people from the valley with crops from their farm), gardeners of all skills came to unearth the tubers and enjoy a sunny break in an otherwise cloudy day. Nancy Taylor and Penny Rivard were among the main organizers, but other volunteers such as Pete Amyoony were giving some helping hands at the trench and booths, while Jessica and Sally Buck (the youngest harvesters) learned some basic math counting potatoes and pennies. Even a few hikers came to help digging the crop out before leaving for the beautiful Ozalenka trail. Mothers with strollers stopped by to get some earthy treasures before entertaining their children at the adjacent playgrounds. The gardeners offered 7- 8 different potato varieties, nicely packed and labeled, at affordable cost. Fresh and tasty- ready to be cooked for your lunch!
Everybody loves potatoes in one form or another: baked and covered with butter, or as a French fry, or mashed with milk and sour cream. Due to their versatility and ability to be used in many types of dishes, potatoes have grown in popularity all over the world. They have indeed, enormous nutritional value, and this can be enhanced by cultivating in rich soil, by organic methods.
Historically, the cultivation of potatoes in South America may have started 10 000 years ago. The plant was first domesticated in the region of modern-day Peru and Bolivia, between 8000 and 5000 B.C. but it has since spread on all continents to become a favorite or staple crop for many populations. The first potatoes arrived in North America were sent to Gov. Francis Wyatt of Virginia by Nathaniel Butler. The very first potatoes on our continent were planted in New Hampshire in 1719. During the Alaskan Klondike gold rush (1897-1898) potatoes were actually worth their weight in gold!
In Canada, potatoes are the most important vegetable crop, and one grown successfully in all provinces, but led by Prince Edward Island. By the 1960s, the Canadian Potato Research Centre in Fredericton, NB, was one of the best potato research institutes in the world.
Why is the potato still so popular today?
Throughout Europe, the most important crop in the 19th century was the potato, which supplied about 10% of the caloric intake of the population. The potatoes had three major advantages over other crops – affordable cost, low rate of spoilage and bulkiness (easily satisfying hunger), not to mention good taste and versatility. But cultivating a diversity of potatoes is highly important to avoid destruction by particular pests or inclement weather. The "Lumper" potato, widely cultivated in Ireland before and during the great famine, was poorly resistant to the potato blight. High dependence on this one potato type led to disaster when the blight arrived and destroyed the harvest-ready potatoes. The Irish Famine (1845–1849) led to at least a million deaths from famine and massive emigration to Britain, U.S. and Canada.
This lesson in farming should always serve as a reminder on the importance of diversity in gardening. Nature thrives in diversity – so do cultures, so do human communities.