By Frank Green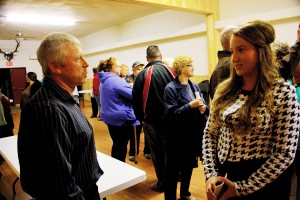 The four candidates for council in McBride's by-election made strikingly different pitches at the Elks Hall last week, even as a new setup did away with the confrontations that inflamed forums in past years.
Each had five minutes to make a speech, with no questions from the crowd. Afterwards there were drinks and snacks as the candidates mingled with attendees, about 80 altogether.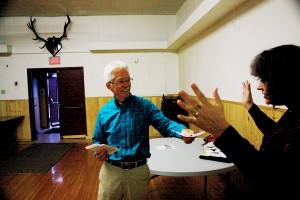 Joseph Rich spoke first, almost literally reading aloud his resume, and emphasizing the decades he's lived in McBride, and the relationships he's built here over that time, including with the current Council.
Then Diane Smith made a forceful speech, calling herself "open, honest, and direct" and pledging her desire to unify the village. She stressed her support for relocating the library to Main Street, and also said there was a need for a local nursing home.
Rick Thompson was the only candidate to use up the full five minutes, making what he said afterwards was probably "the most controversial" speech. He spoke at length about the "rumors and innuendo" he said were at the core of the election last fall, and repeatedly warned attendees about mixing social media and politics. Thompson also noted his own political experience, saying that the other three speakers were "all new candidates."
Lisa Bugaychuk then gave a policy-heavy speech. She wants to create a park on top of Lucille Mountain, bring more plants and shrubs to downtown McBride, and also add more street lighting, which she said would deter crime. She also emphasized her youth, telling the crowd that she's 22 years old, and that she could bring a perspective long absent from Village government. "It's time for the younger generation to step up," she said.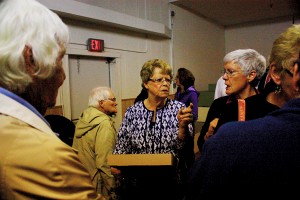 The Chamber of Commerce hosted the forum, and Chair Linda Fry said that the format was changed to make it less "onerous" to organize.
"We just felt this was a way we could handle it given the circumstances we had," said Fry, who added that she considered the evening a success. "I was very pleased at the attendance that we had there, so to me that was an indication that the community was interested."
How to Vote
Voting day is Sat. Sept 19th from 8am-8pm at the Village of McBride Council Chambers. Advance voting is 8am-8pm Sept. 9th at the Robson Valley Community Centre. A special voting opportunity will be available Sept. 18th to qualified electors who are patients, residents or staff of the McBride and District Hospital from 2:30pm-3pm and the Beaverview Lodge 3:05-3:35. Voters must provide two pieces of ID. To vote, you must be 18 years old, a Canadian Citizen, a resident of BC for at least 6 months preceding voting day, a resident OR a registered owner of real property in the Village of McBride for at least 30 days preceding day of registration and not disqualified from voting.