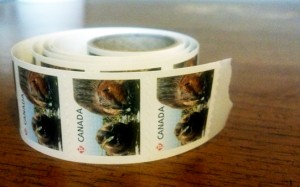 By: Korie Marshall
Canada Post is looking at shortening hours in the Valemount office, and ending Saturday service.
Last fall, Canada Post changed the hours of operation at the McBride post office, extending hours slightly on Wednesdays and closing the office on Saturdays. Now the crown corporation has informed the Village of Valemount they are considering changing hours at the Valemount post office as well.
"A careful review has determined that we have very little customer traffic in the Valemount Post Office," says a letter from Sherri Bargy, Local Area Manager for North Central BC to Mayor Jeannette Townsend. "Canada Post is therefore considering reducing and changing the open hours to the public during the week."
The letter dated mid-April says Canada Post will be holding discussions with local representatives of the Canadian Postmasters and Assistants Association (CPAA), and will communicate with the Village once the discussions have occurred.
It says Canada Post remains committed to providing postal services in urban and rural communities across the country. Having the country's largest retail network is a competitive advantage that will help them compete in growing markets like parcel delivery, fuelled by online shopping.
"However, with letter mail volumes declining, we need to make smart choices to maintain local service without becoming a burden on Canadian taxpayers." Canada Post has a mandate to remain financially self-sufficient.
"It's not all about revenue; we need to provide a service to the community as well," said Carolyn Elliott, vice president of the BC and Yukon Branch of the CPAA, last summer when Canada Post was planning to shorten hours at the McBride office.
During discussion at their May 12th meeting, Valemount Council discussed sending a letter to Canada Post, but decided it wasn't necessary. Councillor Peter Reimer said he understood they are looking to open at 9:00 rather than 8:00. "That shouldn't be too much of an inconvenience if that is all they are going to do." He says they are going to keep Saturday open because of the parcel volume. Other communities are complaining about losing their door-to-door service, says Reimer. The Robson Valley doesn't currently have door-to-door service.
But a recent flyer from the union addressed to the residents of Valemount and area says that Canada Post has proposed new hours of Monday to Friday from 9:00 to 5:00, eliminating Saturday hours. After the flyer came out, Reimer said he only spoke to local office staff, who must not have had all the information at the time.
The letter says the CPAA is not in favour of a reduction in postal service to our community, but needs our support. They are asking you share your opinions with your MP, Cathy McLeod, the CPAA, and with Canada Post Customer Service.
Barb Lincoln, President of the BC & Yukon Branch of the CPAA, says so far they have only one letter from a customer who opposes reduction of hours and the privatization of the offices, but they need to receive letters from people that oppose the Saturday closure specifically.
"If we even get a couple of responses indicating they are not in favour of a Saturday closure, we can use that as a reason to not agree," said Lincoln.
The CPAA, which represents over 6,000 Canada Post employees in rural post offices and 5,000 term employees, is also asking for help to stop the federal government from privatizing Canada Post, which it says will have disastrous consequences for the Canadian public, resulting in even more price increases and poorer service, particularly in rural Canada.
The union says it's been revealed that the federal government commissioned a secret study which examined privatizing Canada Post. Blacklock's Reporter obtained documents through an Access to Information request, showing the government has also extensively studied postal banking, and found it could be quite profitable. The crown corporation instead opted for rate hikes and plans to end door-to-door postal service across Canada and erosion of service hours, starting in January last year.
Canada Post spokesperson Carley Smith says they are currently only looking at reducing services on the weekday mornings, a reflection of customer traffic patterns, and they are not considering closing on Saturdays. "Canada Post is regularly looking at adjusting our hours of operations to better fit the traffic we get in our post offices."
The Valemount Post office is currently open from 8:00 to 5:00, Monday to Friday, 8:30 to 12:30 on Saturday, and closed on Sunday. In McBride, the new hours are 9:00 to 5:00 on Monday, Tuesday, Thursday and Friday, 9:00 to 6:00 on Wednesday and closed on Saturday and Sunday.