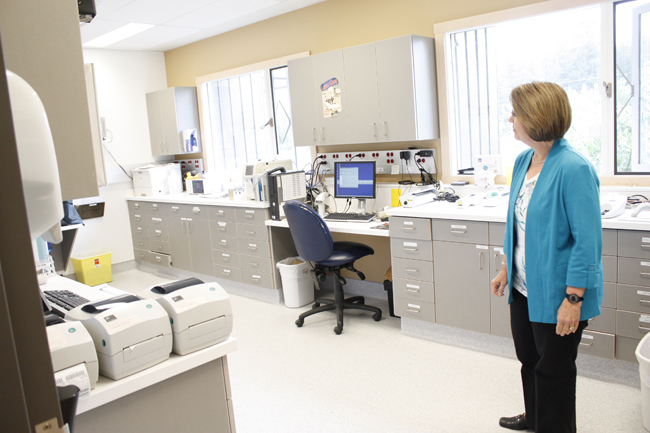 By: Korie Marshall
More funding will be available to medical students taking an interest in rural practice, the provincial government announced last week.
The Ministry of Health and Doctors of BC say they are working to attract more doctors to rural and remote communities with a total of $100,000 available in financial awards for medical students who demonstrate an interest in practising medicine in those communities. The funding will also support rural students entering medical school.
"This new scholarship fund reflects government's focus on supporting health care in rural communities," said Health Minister Terry Lake in a news release last week. "Municipalities, government, health authorities, Doctors of BC and UBC are working hard to attract and retain doctors who are invested in the wide scope of medicine practised in these areas and the strong community ties they will build."
The first set of British Columbia Rural Interest Awards have been granted to 20 University of British Columbia medical students who come from a variety of rural communities or have demonstrated an interest in entering rural medicine once training is complete. Annually, up to 20 medical students will be given individual awards of $5,000 to support their pursuit of practising rural medicine.
"We know that students who train in rural communities are more likely to consider practicing rural medicine," said Dr. Bill Cavers, president of Doctors of BC. "This initiative demonstrates our commitment to working collaboratively and improving patients' access to care in rural communities."
The province says the British Columbia Rural Interest Award will be given to up to seven third year students who have completed the Rural Family Practice Clerkship or the Integrated Community Clerkship; up to seven fourth year students who have completed a four-week rural elective; and the remaining six awards are granted to first year students upon admittance to UBC Medical School.
Laura Heinze, spokesperson for the Ministry of Health, says all medical students studying in BC would qualify for the grants, including students attending the University of Northern BC. The Northern Medical Program at UNBC, along with the Island Medical Program at the University of Victoria and the Southern Medical Program at UBCO in Kelowna are all part of the Faculty of Medicine at UBC. This distributed medical program was the first of its kind in North America and has proven to be a highly successful model of distributed education, says the UNBC webpage.
Students in the Northern Medical Program spend their first semester at UBC in Vancouver from August to December, then move to the north where they complete the rest of their four-year program. In addition to local medical faculty who teach, the NMP also uses teleconferencing to broadcast and receive lectures from medical professionals throughout BC. UBC was one of the first medical schools to deliver almost the entire four-year medical curriculum through distributed campuses; since then, several other Canadian medical schools have followed that approach.
The Northern Medical Program celebrated 10 years of teaching future doctors at UNBC in January. Since its launch, the NMP has expanded its annual intake from 24 to 32, and has graduated seven classes since 2008. About 30 per cent of NMP graduates who have settled into permanent practice are currently working in the north, with more than two-thirds of them in permanent practice in rural and remote communities.
"Rural medicine is broad, interesting and relational; you can do full service family medicine and provide significant continuity of care," said Samantha Chittick, a fourth year medical student from Kelowna. "I can't understand why anyone would want to do anything else."
For students applying upon completion of the third year Rural Family Practice Clerkship, Integrated Community Clerkship or fourth year Rural Electives, the deadline is June 30, 2015. For first year students applying upon admittance to UBC medical school, the deadline is Sept. 30, 2015.
These awards have been established through ongoing funding from the Joint Standing Committee on Rural Issues, a collaborative committee of the Ministry of Health and Doctors of BC.
Eligibility and application deadline information can be found at: rccbc.ca/education-and-cmecpd/medical-students/reap/british-columbia-rural-interest-award/. More information about the collaborative committee of Doctors of BC and the Ministry of Health can be found here: www.doctorsofbc.ca/resource-centre/physicians/handbooks-guides