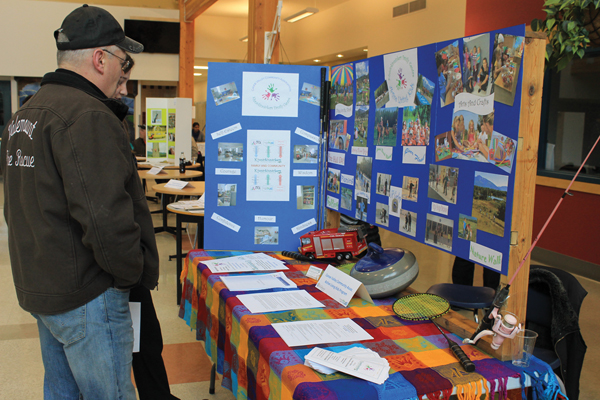 By: Korie Marshall
The local committee has made their recommendations to Valemount Council on who will receive funding this year through the Columbia Basin Trust's Community Initiatives and Affected Areas Program. Council was scheduled to review the recommendations at their regular meeting on Tuesday evening, April 14th.
This year, $283,701 was available to fund community project and programs. Seventeen applications were received with a combined funding request of $313,538. A public meeting was held on March 11th to give the community a chance to view, ask questions and cast votes on the proposed projects.
"After many hours of deliberation and discussion, the Committee unanimously agreed on the projects which should receive funding, and the funding amounts they should receive," said a staff report to Council.
The committee recommended that:
Valemount Volunteer Fire Dept. Association receive $37,316 for the Live Burn Training Facility;
Valemount Area Recreation Development Association receive $70,000 to complete Phase 1 of the Mountain Bike Trails Facility;
Valemount Legion receive $13,000 for Hall upgrades;
Valemount Learning Society receive $13,597 for the Valemount V-Crew Youth Centre;
Tourism Valemount receive $29,755 Phase 2 of the Cranberry Marsh Trail/Boardwalk;
Valemount Minor Hockey Association receive $4,980 for a fall skills camp;
Canoe Valley Community Association receive $15,848 for the Active Living Kids program;
Valemount Community Sports Day Association receive $2,800 for the Youth Initiative Program and rental of bouncy castles for Valemountain Days;
Robson Valley Spay & Neuter Society receive $5,000 for the Community Spay & Neuter Program as well as $2,250 for the Community Pet Identification project;
and Valemount Lions Club receive $34,277 for the Access & Mobility Program (including accessible washrooms).
The committee recommended that the Legion does not receive funding for the Junior Rangers backcountry equipment; the Valemount Marina Association does not receive funding to complete the container shop; the Valemount & Area Chamber of Commerce does not receive funding for website eevelopment; the Valemount Historic Society does not receive funding to produce the play 'Valley Tracks'; and SQx Danza does not receive funding for an interactive dance awareness program in the schools.
If accepted by Council, the recommendations would leave just over $51,000 in available funding in this year's pool which gets carried over for next year.
On the adjudication committee this year were Bill Kruisselbrink, Arnold Weid, Rita Rewerts, Ray Mickolash, Tom Jamin, Donnie MacLean, and Councillor Hollie Blanchette.
The Community Initiatives Program is CBT's oldest funding program, and provides grants to each community in the Basin each year, based on a per capita funding formula. The program is designed to incorporate community-based funding decisions to better meet local priorities. The Affected Areas Program provides extra funding for communities that were most affected by dam construction under the Columbia River Treaty – Valemount and other communities around the Kinbasket, Aarow, Duncan and Koocanusa reservoirs.