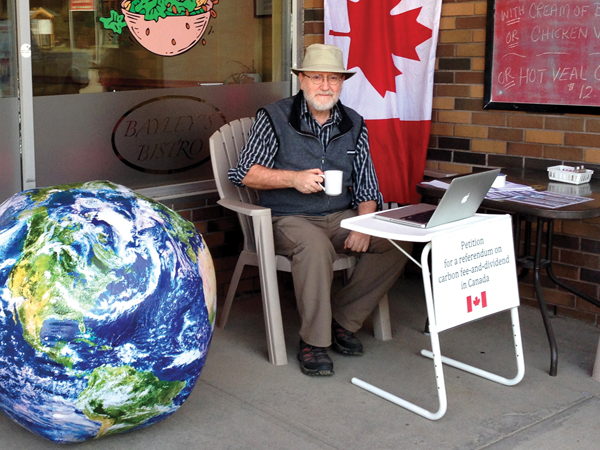 Submitted by
Keith McNeill
"My special interest in climate change began several years ago when the child of a family member cried himself to sleep after watching a television documentary on the subject. Will you sign my petition to help fight climate change in Canada?"
That's how an online petition starts out that has been posted on Care2 by Keith McNeill, the editor of the award-winning Clearwater-North Thompson Times in Clearwater, British Columbia. The petition calls for a Canada-wide referendum on carbon fee-and-dividend.
This spring McNeill plans to bicycle from Toronto to Ottawa to publicize his petition.
The ride will start in Toronto on May 23 to coincide with Canadian Community Newspaper Association's annual convention. The Clearwater Times won first place for best editorial page in its circulation class from CCNA this year. Other CCNA awards the Times has won while McNeill has been editor include best all round newspaper in its circulation class in 2014 and 2011. McNeill has also helped the Times win first place in general excellence from BC and Yukon Community Newspaper Association three times.
The ride will end in Ottawa at Parliament Hill on June 2 during a lobbying blitz to be done by Citizens Climate Lobby – Canada to promote carbon fee-and-dividend.
The route will follow the Waterfront Trail along the shore of Lake Ontario as far as Kingston, then head inland and follow part of the Cataraqui Trail towards Ottawa.
Along the way, McNeill hopes to do interviews with as many small town newspapers as possible to promote the benefits of carbon fee-and-dividend.
"Carbon fee-and-dividend is a way to control human-caused global warming that is advocated by James Hansen, one of the world's leading climate scientists," McNeill explains.
"A fee would be charged on all fossil fuels, in a manner similar to a carbon tax. Unlike a carbon tax, however, the money would not go into general government revenue but would be distributed to every adult as equal and repeating dividends."
According to McNeill, Canada-wide carbon fee-and-dividend set at the same level as B.C.'s carbon tax (which is what is called for in the petition) would generate about $20 billion per year, enough to give every adult living in Canada close to $1,000 per year in dividends. This would reduce both the use of fossil fuels plus encourage the development of alternative sources of energy, he says.
The fee-and-dividend would also address growing economic inequality in this country. The bottom 10 per cent could expect to receive 150 per cent more in dividends than they would pay out in fossil fuel fees. Two-thirds of households would break even or receive more in dividends than they would pay in fees.
This isn't the first long-distance journey the Clearwater Times' editor has attempted. In 1987 and in 1989 he walked from Clearwater to Toronto, a distance of about 4,000 km. The purpose of that journey was to have been a pilgrimage to India and back to honor Mahatma Gandhi. Unfortunately, a minor but persistent foot injury forced him to return home.
Last fall, when he was in Toronto on a different matter, McNeill extended his earlier walk by another eight km and finished off at the Rouge Hill GO Station northeast of Toronto.
"This spring's bike ride will begin from where I left off last fall – the Rouge Hill GO station – and will continue to Parliament Hill in Ottawa," the small town editor says.
McNeill's petition is at: www.thepetitionsite.com/850/161/365/petition-for-a-referendum-on-carbon-fee-and-dividend-for-canada/.