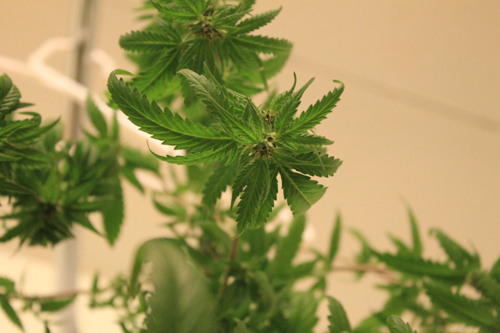 By: Korie Marshall
Valemount Council held a public hearing on Feb. 24th for a bylaw to regulate where the commercial production of medical marijuana can occur within the Village, and received no public comments.
The federal government passed new regulations in early 2013, requiring patients using medical marijuana to purchase their medicine from commercial producers, regulated by Health Canada. Under the new regulations, production licenses could be issued for residential areas unless local government specifically prohibits it.
The previous Council requested the Advisory Planning Commission make recommendations on how the Village should regulate medical marijuana. Their recommendation was that C3 (Service Commercial) permits nursery and/or greenhouses, and so medical marijuana should be excluded from other zones, but allowed in C3, with proper size of property and setbacks. The commission noted that they don't have the expertise to recommend minimum parcel size or setbacks. The report to Council says staff reviewed agricultural operations in other municipalities as well as legal bulletins and recommended the minimum parcel size be 2 hectares and the minimum setback be 30 meters from all property lines.
According to the Village's zoning map, the largest C3 lot within the village is just over one hectare. A person could still set up a medical marijuana production facility within the village, but they would have to go through either a process to rezone or a temporary use permit, both of which require an opportunity for public input.
Patients who were growing their own medical marijuana under the earlier federal regulations are currently still allowed to do so. The federal government planned to rescind the earlier regulations on March 31st, 2014, but BC lawyer John Conroy and a group of medical marijuana users including Neil Allard have mounted a court challenge to the new regulations. They claim the new regulations violate the Canadian Charter of Rights and Freedoms by forcing some patients to choose between their liberty (being arrested and charged with production of marijuana) and their health (accessing the medicine that works best for their health, at prices they can afford).
A federal court judge granted Conroy and his clients an injunction 10 days before the earlier regulations were set to expire, and though Health Canada appealed it, the courts later upheld the injunction. The injunction means many licenses for home growers are still valid, pending the outcome of the Charter of Rights challenge. The hearing, Allard et al. verses Her Majesty the Queen, began in Vancouver on Feb. 23rd and is scheduled for 15 days.
Final reading of Valemount's bylaw to regulate commercial production of medical marijuana was scheduled for the March 10th meeting.