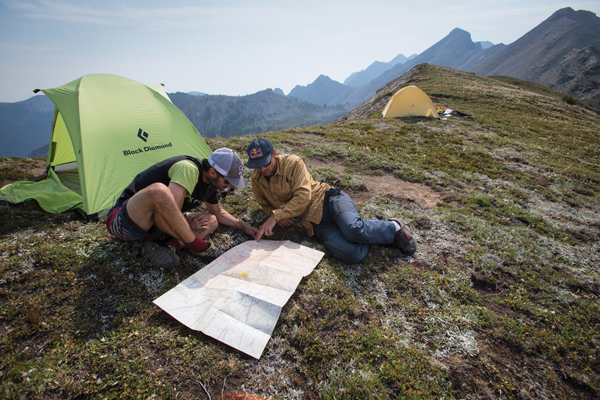 By: Laura Keil
Paragliding record-setters Will Gadd and Gavin McClurg have been named Adventurers of the Year 2015 by National Geographic Magazine after their epic paragliding journey from McBride, B.C. to the U.S. border this summer.
The pair flew more than 800km over 35 days. The trip was filmed by Red Bull for yet-to-be-released documentary.
On Aug 1st, they flew from McBride to Mt. Robson and then veered south, using only their paragliders to propel them towards their goal: the U.S. border, some 650km away. They wanted a continuous flying GPS trace of the whole trip. Most of this area – heavily treed with few roads or people – had never before been charted by paraglider.
The pair crossed remote mountain ranges seldom seen by humans. The film crew hired by Red Bull to document the journey didn't carry any of their supplies. They had to navigate in remote areas and wait out bad weather.
The journey takes the pair 35 days and flew over 800km, partly due to poor conditions. They got stuck for four days on Kinbasket Lake. They were forced to change their route due to forest fires, backtrack to keep their GPS track continuous, and fly for as long as 100km without finding a good spot to land.
"Flying in the mountains is much harder than flying on the flat," Gadd said in an interview with the Goat. "It's much harder to fly in the mountains because the mountains get in the way. It's a much more technical thing."
Each night the pair camped in alpine meadows. This way of paragliding and camping is known as "Vol-Bivy" and is not as common in North America as it is in Europe. It can allow the flyer to explore multiple peaks in a single day, remaining up high as long as they can find thermal pockets to buoy them back into the sky.
It's the longest true paragliding trip ever attempted and expands what people think is possible with paragliding.
You can still vote for Will Gadd and Gavin McClurg on the National Geographic website for People's Choice Adventurers of the Year 2015 (a separate award) every day until Jan. 31st: http://tinyurl.com/lxzrrdg
Watch a teaser of the Red Bull video here: http://tinyurl.com/pnrqacb