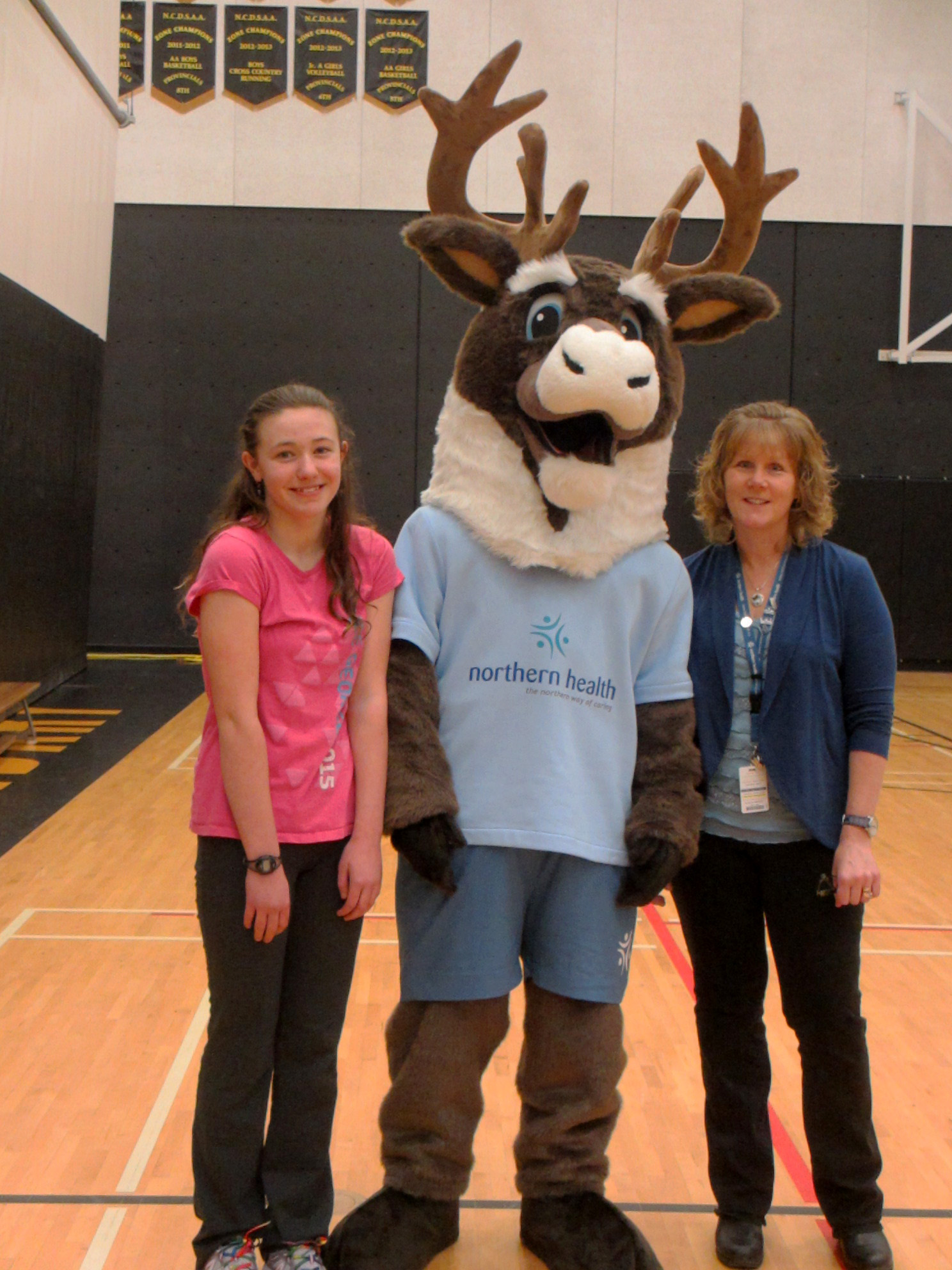 Submitted by Northern Health
Northern Health's new mascot, Spirit the caribou, was unveiled on January 13th at Duchess Park Secondary school in Prince George. Grade 8 students, including Isabel Stratton who originally came up with the concept and story for Spirit. Spirit will help Northern Health engage youth in thinking about healthy living.
"I congratulate Isabel Stratton for putting forward the winning entry for Spirit the caribou," said Mike Morris, MLA for Prince George-Mackenzie. "Her creativity showed and reflected the goals of the contest, which looked for a mascot that reflected healthy living, the North and, of course, had to be fun."
"There are few things that cause worry and stress for families like the health of their children. Ensuring that there are unique and creative ways to share information and health messages with children and youth is essential," said Prince George-Valemount MLA Shirley Bond. "I love the new mascot "Spirit" and congratulate the Grade 8 student that was part of the design team. I am confident that Spirit the caribou will make it much easier to reach out and share important healthy living information with our young people."
Youth are a challenging audience to reach directly. Through Spirit, Northern Health hopes to showcase and promote healthy habits that begin at a young age and carry on for life. Spirit will encourage:
• physical activity (children need 60 minutes of moderate to vigorous physical activity per day);
• healthy eating;
• not using tobacco products;
• proper dental hygiene; and
• injury prevention, including making sure to wear helmets and other protective equipment.
"The northern population is not as healthy as the rest of the province, and we're working hard to improve the health of the population," said Dr. Sandra Allison, Northern Health's chief medical health officer. "By beginning with healthy habits at a young age, we're hoping that children and youth will be able to avoid more chronic diseases and prevent injuries."
Last summer, Northern Health called upon northerners to submit mascot design concepts. Submissions were then narrowed down to the two entries that best represented the North and Northern Health values by a panel of employees. The two final entries – Spirit and a bear named Rex – were then voted on by the public. After Spirit was selected from the public vote, Northern Health worked with Vancouver-based JBW Mascot Design to take the mascot to take the mascot from concept to reality. The total cost of the mascot development, $6,272, was sponsored by the Spirit of the North Healthcare Foundation.
"We recognize the importance of supporting upstream health care strategies encouraging people to live healthier lives," said Judy Neiser, Spirit of the North Healthcare Foundation chief executive officer. "We're very excited to sponsor Spirit the caribou in engaging with youth across the Northern Health region!"
Spirit's submission came from Prince George resident Isabel Stratton, a 13-year old Duchess Park Secondary student. As part of her submission, she submitted an original art piece and Spirit's origin story, which featured Spirit as an adventurous youth who gets a nasty cold, forcing him to see a doctor and learning about the importance of health. In her story, Spirit "enjoys exercising, eating well, and making the right choices for himself and his body." For Spirit's full story, visit blog.northernhealth.ca.
After his debut at Duchess Park Secondary school, Spirit will make appearances during the 2015 Canada Winter Games. He will then make appearances at events across the North, promoting healthy habits for young people.