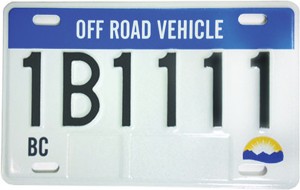 By: Korie Marshall
Registration has been required for snowmobiles in BC since the early 1970's, but starting next June, all off-road vehicles in BC will require registration. Voluntary early registration is available now, through any of the province's 900-plus ICBC insurance brokers.
A new Off-Road Vehicle Act was passed in BC on March 24th 2014, but introducing the regulations has taken some time. The province announced in early November that the new registration system will open on Nov. 17th, to allow time for a smooth transition to the new regulations. After June 1st 2015, registration will be required for any off-road vehicle used on Crown land.
"We can now increase our focus on connecting the trail networks and increasing the opportunities for responsible riders to get out and enjoy the sport we love," says Jeff Mohr, president of the Quad Riders ATV Association of BC.
The government says the combined cost of the number plate and one-time registration fee is $48. The new registration will be integrated with ICBC's pre-existing structure for registering motor vehicles, to reduce implementation costs and allow easy access to residents.
Greig Bethel, spokesperson for the Ministry of Forest, Lands and Natural Resource Operations, says snowmobile owners who have already registered their vehicles under the old Motor Vehicle (All Terrain) Act will be eligible for refund for the amount they had already paid – this will be $5 for transfers and $10 for registration. The refund system ensures fairness for those who have already paid a fee and are being asked to re-register.
The old snowmobile registry was a manual system, not a database, and the old decal system meant a snowmobile could appear to be registered, when the decal belonged to a previous owner, says the ministry. This made it challenging for officers to identify reckless snowmobilers. The new system requiring a plate that stays with the seller will fix this issue, and is the same approach used for motorcycles and other on-highway vehicles.
The ministry says the new Off-Road Vehicle Act supports the province's management framework to help British Columbians get out and enjoy the beauty of the province's backcountry, while ensuring off-road vehicles, including snowmobiles, are driven in a safe and environmentally responsible manner. The framework is being implemented in stages, and further regulations will "flesh out ORV rules of operation, safety standards, penalties and conditions of use for a wide range of modern ORV's" including dirt bikes, side-by-sides, quads and snowmobiles.
When introduced early in 2014, the province said the legislation will allow the development of safety standards and rules of operation, such as wearing helmets, and will assist in identifying stolen or abandoned vehicles by giving peace officers access to the registration database. It will also give officers more effective tools to target the small number of ORV users that endanger others or damage sensitive habitat, including the ability to stop and inspect an ORV, seize an ORV for safety or evidence purposes, and increase the maximum fine for offences from $500 to $5,000.
The ministry says to register an ORV, you'll need to bring proof you are the legal owner of the vehicle to an ICBC office, such as: a new vehicle information statement or a certificate of origin if the vehicle is new; a bill of sale such as a transfer tax form signed by the seller; a title certificate or previous registration if imported; or a Consumer Taxation Branch Gift of Vehicle form. Without one of these, a sworn declaration will be required with information about how you came into possession of the vehicle and your attempts to get the one or more of the above documents.
Also announced are changes to the Motor Vehicle Act regulations, effective Nov. 17th, to allow for greater access to highway crossings for recreational off-road vehicles. The ministry says this includes the ability to load or unload in a parking lot without an operation permit, and to cross a highway without an operation permit if the crossing is controlled by a stop sign or traffic light. Users with an operation permit will also be allowed to cross a highway where local police authorize.
Erin Hart, president of the BC Snowmobile Federation, says many partners invested a lot of volunteer time, effort and expense working with the government on this initiative. "We are very pleased that the new regulations are being implemented and we look forward to working closely with government to further enhance organized snowmobiling in British Columbia," she says.
The Union of BC Municipalities says the announcement fulfills one of its longstanding policy requests to the province to establish a system of ORV licensing and registration.
An estimated 200,000 off-road vehicles are used in the province, in a variety of sectors including farming, ranching, forestry, oil and gas, mining, sport, tourism and transportation, and search and rescue.