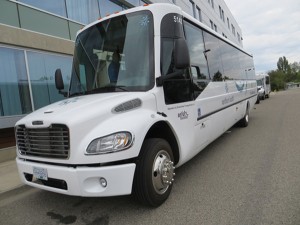 By: Korie Marshall
Members of McBride's Old Age Pensioners Organization have been using Northern Health's bus for many years for a few trips a year. It has been good for the members, some of who need the bus's lift, but recently, the organization has been told they can no longer use the bus.
"It nearly screwed up our last trip because we didn't find out until a week before that they weren't going to let us use the bus," says Dawna Hickerty, who organizes the trips. She says they have been told that whoever owns the bus now has decided the OAPO can no longer use it. They haven't been told why.
"It is just such a shame, because it's used two days a week, and sits idle for the rest of the week," says Hickerty.
She says the have been careful not to interfere with the regular bus schedule and the local driver doesn't mind. They pay for the service, and would be willing to pay more, if it was an issue of cost, but they can't afford to rent a bus and driver from Prince George because of the additional time and distance.
"It's the only local bus with a lift, and that is our big concern," says Hickerty. The OAPO has members over 80 years old, and some have disabilities, including some who use a wheelchair, so having the lift is really important. Some members can't go on a trip if the bus doesn't have a lift.
"Some of the seniors, they don't get out of town except for the couple of trips we do a year, so it is pretty special for them," says Hickerty. She says the social aspect is also good for seniors' health, and should put them apart from other groups or people who might want to use the bus.
The OAPO has sent letters to Bill Ony, General Manager of Diversified BC, and also to Isobel Mackenzie, BC's new Seniors Advocate, Terry Lake, Minister of Health, MLA Shirley Bond and the Village of McBride as well as others, asking for help to investigate and come up with a reasonable solution. Hickerty is planning a trip before Christmas to Theatre North West in Prince George, but she is not expecting to have the situation resolved by them. They've been able to rent the Valemount Community Bus before, and had booked if for the first weekend in December, but their booking got bumped because an organization in Valemount needs the bus.
Hickerty says she understands that, as it is primarily intended for the use of the Valemount community. She is working on an alternate date for their trip, but even so, some members won't be able to come because the Valemount Community Bus doesn't have a lift.
Reina Pharness, Regional Director Medical Affairs for Northern Health says the OAPO may be able to use a Health Bus for future events, but will now have to fill out an application form for each request, and the earlier the better, to help ensure a bus is available.
"We recognize and apologize for the inconvenience this might have caused," says Pharness, referring to the OAPO's last planned trip. It may have looked like the bus was available, as it was sitting in McBride, but it was the only spare bus available at the time. "We didn't have any other backup, and if we had had a breakdown, we wouldn't have been able to fulfill the needs of the program. We couldn't allow the bus to be used by the community at that time."
Pharness says that reasoning probably wasn't communicated properly to the OAPO, which is one of the reasons for the new application process. The other is there has been an increase in the number of use requests throughout the region and Northern Health Connections has decided to review each request.
Pharness says there are no set criteria for approval as it depends on the situation, whether a spare bus is available, and if the driver is willing to give up time off, among other considerations. She recommends calling the Northern Health Connections line at 1-888-647-4997 to say you are making a request to charter a Health bus, and would like to fill out an application.
"There is no guarantee that we will be able to accommodate the request," says Pharness, "but get an application from the call centre, and we will review it to make sure it aligns with what we can provide service for."