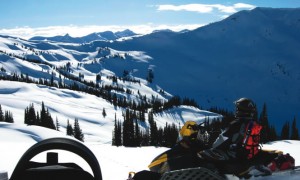 By: Korie Marshall
Voting for the final round of SnoRiders' annual SledTown ShowDown contest ends on Nov. 24th and it looks like Valemount is in the lead against Sicamous/Shuswap.
The contest for bragging rights is "a big deal," says Jennifer Robinson, Marketing Coordinator for Tourism Valemount. She says Valemount has received awards from SnoRiders before, but she is not aware of Valemount being in this contest before.
Curtis Pawliuk, General Manager of the Valemount Area Recreation Association, says he is excited the community is in the final round. He says contests like these are marketing tools, and can often be driven by marketing, which can help raise awareness of our area and bring more people here.
The contest, based on online voting, saw Valemount beat out Nelson in the first round, Blue River in the second, and Revelstoke in the third round. Some of the other eleven regions in the BC bracket included Fernie/Elk Valley, Tumbler Ridge, Golden, Radium Hot Springs and Pemberton/Whistler. Online readers can also vote on Alberta, Saskatchewan and Manitoba brackets as well. The final round for the Alberta bracket is Cadomin/Hinton/Edson vs. Whitecourt; in Saskatchewan it is Duck Mountain Park/Canora vs. Hudson Bay; and in Manitoba it is Clearwater vs. Swan Valley/Swan River.
Go to http://snoriderswest.com/sledtown-showdown to vote. You can also vote for your favourite sites in Alberta, Saskatchewan and Manitoba.