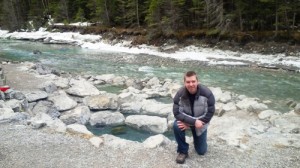 By: Korie Marshall
Two resolutions from Valemount Council were debated at the annual Union of British Columbia Municipalities conference last week in Whistler. Valemount Mayor Andru McCracken says one passed, and the other is "on life support."
McCracken says the Village's resolution seeking support from the provincial government, BC Hydro and GeoScienceBC to help develop geothermal power in the province was passed as part of a larger block or resolutions that were consistent with UBCM policy.
The Village's second resolution, seeking to require fibre optic cable be laid along any new dug right-of-ways such as pipelines, looked like it wasn't going to pass, said McCracken. He says the UBCM resolutions committee recommended caution, especially without an understanding of the cost implications of laying fibre optic cable.
"In my view, if Kinder Morgan is ripping up 800 km of right of way from Valemount to Vancouver, just getting fibre in the ground could turn us from an online backwater into an internet super power," said McCracken in an email. "So too, with northern communities and the crisscrossing of LNG lines."
But he says the Village did not have answers about the cost, and a last effort was made to save the idea by referring it to the UBCM executive. McCracken says he was on his way home to deal with the sewer back up at the Dogwood lift station by the time the resolution came up, and he appreciates Councillor Sandy Salt's help in getting the motion referred to the executive. He says he hopes the committee can research other models like the Columbia Basin Broadband Corporation and jurisdictions in the US "where fibre optic ownership translates into connected communities."
McCracken says the conference is a great networking opportunity that offers many learning opportunities. Valemount Council members were able to meet in person with Mary Polak, Minister of the Environment, regarding new recycling legislation and it's costs to rural areas; Steve Thomson, Minister of Forest, Lands and Natural Resource Operations, about expanding community forests; and representatives from the Ministry of Energy and Mines regarding geothermal exploration.
He says Shirley Bond, MLA for Prince George-Valemount was at each meeting with Valemount Council members.
"She is the hardest working MLA in the province hands down," said McCracken.
McCracken said they also met with Kinder Morgan representatives to discuss potential impacts and strategies, should the Trans Mountain Pipeline expansion move ahead.