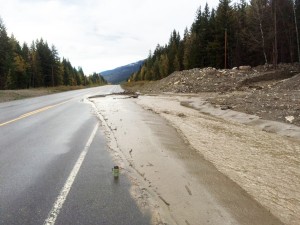 By: Korie Marshall
On Sept. 24th, another debris flow at Leona Creek closed Highway 16 for a few hours.
The Ministry of Transportation and Infrastructure confirmed a mix of rock and soil filled the channel above the highway and blocked the culvert around 3 pm on Wednesday afternoon. Water and material was diverted along the highway ditches to other culverts. The ministry says geotechnical engineers were working in the area and were able to monitor and assess the slide quickly, and work crews were about to re-establish the flow through the culvert and reopen the highway by 7 pm that evening.
The ministry says it is investigating potential solutions for reducing any future highway impacts in the area.
Previous slides at Leona Creek have closed Highway 16 in June 2013 and for almost 24 hours in June 2012.