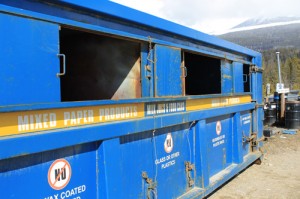 By: Korie Marshall
The Regional District is reminding residents that changes are coming to the drop depot recycling bins at many regional transfer stations starting Oct. 1st – though the bins did not have their new labels yet as of Oct. 2nd.
Residents are advised to place their plastic materials in the mixed paper bins until the new sorting system arrives.
The Regional District of Fraser Fort George is adding collection bins to some transfer station sites and expanding the materials collected at others across the district, in order to improve access to recycling collection for residents not serviced by Multi-Material BC's new curbside collection program. Both the McBride and Valemount Transfer Stations will continue to have recycling collection, and materials collected at both stations will be expanded to include household plastics and many other materials.
A news release from the Regional District says effective today, the list of materials accepted will be expanded to match materials currently accepted in the curbside Blue Box program offered to residences in Prince George.
Mixed paper now accepted: boxboard; corrugated cardboard; catalogues; cardboard egg cartons; envelopes; beverage carry-out trays; glossy paper; newspapers & inserts; office and household paper; paper gift wrap, greeting cards; paper towel & toilet tissue cores; paper bags with single & multiple layers; telephone books; shredded paper (can be placed in clear plastic bag).
Food cans and residential plastic now accepted: metal cans & lids; milk cartons; plastic bottles, jugs and jars with caps & lids; aseptic boxes & cartons; frozen dessert boxes; paper hot & cold beverage cups; plastic cold drink cups and lids; plastic pails, less than 25L; plastic clamshells; aluminum foil wrap and take out containers; aerosol cans and caps; microwave meal bowls and cups; spiral wound paper cans and lids.
Glass, styrofoam, and plastic bags are not accepted in the bins but can be taken to MMBC Drop off Depots located at 6665 Hart Highway (Hart Return-It Centre) or 2614 Petersen Road (Prince George Recycling and Return-It Centre).