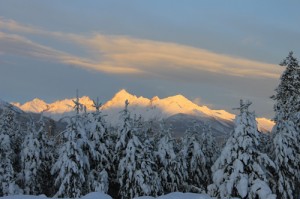 A group of investors from Toronto was recently in Valemount to learn more about the Valemount Glacier Destinations project. Tommaso Oberti of Pheidias Project Management Corporation, says it is ambitious, but if this group decides to invest, the goal will be to have lifts running by December 2016.
Oberti says the group flew into Valemount on a private jet, and toured the VGD site by helicopter, as well as meeting with members of the Valemount Ski Society and Simpcw First Nations. He says Band Councillor Fred Fortier spoke with the investors at length and reiterated their support for the project.
Oberti says the group also met with Valemount Council and staff, members of the provincial Resort Management Branch, and other government departments, and are impressed with public, First Nations, and government support for the project. They have also been assured the approval process will be fair and efficient, and are impressed with BC's approach to streamlining the process.
Oberti says the environmental reports will be finished by early 2015, and the draft master plan should be ready by late spring. He says the goal they are working to right now is to have the master plan approved by the fall of 2015, which could mean the development agreement is finalized by early 2016, and construction could start in the spring. The terrain is a bit more difficult here in Valemount that at Kicking Horse in Golden, but Oberti says having the lifts open even by the following year, December 2017, would be an incredible accomplishment.
Oberti says this group of investors is capable of investing in the first phase of the project. He says typically investors would see a project through to the end of the master agreement, and then sell the project, but this group has expressed interest through the first phase. He acknowledges some people are still skeptical about the project, but says public support has been and will continue to be essential.
The Valemount Glacier Destinations proposal is for a year-round, world-class skiing and sightseeing destination in the Premier Range, west of Valemount. The formal proposal was submitted in 2012.