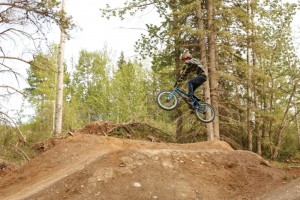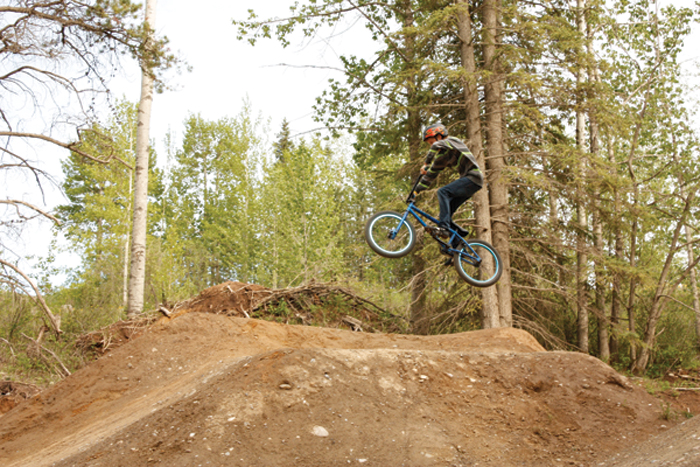 By: Korie Marshall
The first phase of a plan to build more than 23 kilometers of new mountain bike trails on McBride Mountain, just three kilometers from McBride, has received approval from the province.
Phase 1 of the Robson Valley Mountain Bike Association's trail development proposal includes 18.6 kilometres of multi-purpose, cross-country mountain bike trails and five kilometers of downhill mountain bike trails.
Prince George-Valemount MLA Shirley Bond announced the approval last week on behalf of Steve Thomson, Minister of Forests, Lands and Natural Resource Operations. About 5.5 kilometers of the trails will consist of existing trails and former logging skid roads. A news release from the government says work on the trails will start next spring, and continue through the next two years. It says the mountain bike association will be entering into a partnership agreement with Recreation Sites and Trails BC for long-term trail development, management and maintenance.
"We hope the trails will encourage participation in mountain biking for people of all ages and abilities, promoting an active, fun lifestyle," says Ingrid Stengler, president of the Robson Valley Mountain Bike Association, in the release.
McBride Council provided a letter of support for the project, which has already received some support from the McBride Community Forest, the Regional District of Fraser-Fort George, and the Omineca Beetle Action Coalition, to do a feasibility study. Stengler told the Goat last spring the feasibility study was not needed for the application to the provincial government, but helped show the potential scope of the project. She said the feasibility study was really positive, and there is a lot of flexibility in the plan.
The plan was prepared for the Mountain Bike Association by Joel Pirnke of MTB Works, a professional trail builder. It outlines 29 potential trails that incorporate some existing trails, and can be used by a combination of hikers, horses, cross-country and downhill bikers. The plan is a high-level overview, and says that trail design and additional planning will be needed for any given trail development.
The plan took a lot of hard work, and is very comprehensive, says Bond in the release. "When I looked at the plan I was very impressed and agreed to follow up with Minister Thomson. Hopefully these trails will encourage riders of all skill levels to consider giving mountain biking a try."
The Robson Valley Mountain Bike Association is a non-profit organization started in 2012. Stengler told the Goat many of the members aren't necessarily bikers, but they are in support of having more trails and trail systems in the area.
"Prince George and Jasper are full of people that bike, many looking for quick get-aways. If McBride and Valemount both had something, it would be a bonus for both – for visitors, and for locals," said Stengler.
The Ministry's Recreation Sites and Trails Branch also gave approval in early 2014 for the first phase of mountain bike and multi-use trail development at 5 Mile Hill, near Valemount.
Stengler could not be reached before press time for further comment.
The release says the trails were selected for development because of their proximity to McBride and their low elevation which offers a longer riding season and ease of use and enjoyment for many different user groups and skill levels.