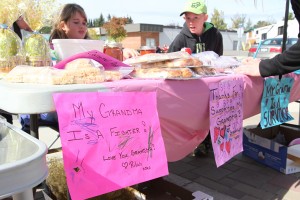 By: Korie Marshall
Jackilyn Lussier says her mom, Janet Kunka, is all done her cancer treatment in Kelowna now, and wants to thank the many people who helped with fundraising to help her cover the costs. They also want to share a story of some amazing people in the valley and in the communities nearby.
A surprise fundraiser, complete with BBQ, donated baked goods, and silent auction items, was recently organized in Valemount by Kunka's friends and family. After the fundraiser, a woman from Valemount who doesn't even know Kunka sent her a $100 cheque, along with a note to explain why.
Patricia Kristinsson was at the fundraiser and picked up some goodies, which she brought to her mechanic at Jasper Towing Company. She also prayed for him, because he has a spine problem. After that, he wouldn't let her pay her bill. She tried to press him to take her money, but he refused, and said "I know – make a donation to the lady in Valemount who is battling cancer."
Kristinsson said both she and her mechanic want to encourage Kunka, though neither of them know her. Good things seem to travel far – and come back.