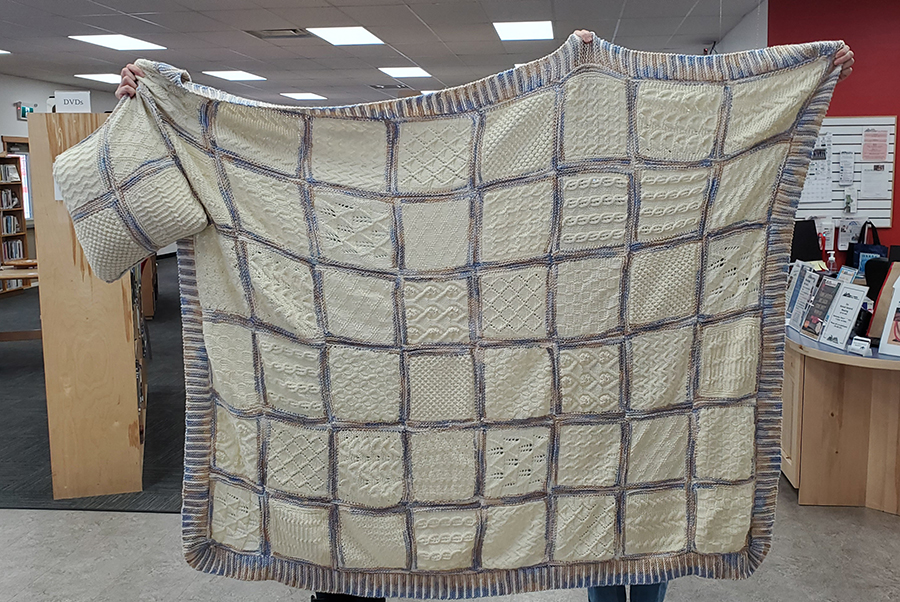 By Andrea Arnold
The McBride and District Public Library is holding a silent auction intended to raise money for an outdoor garden space in the empty lot between the library building and Fifth Avenue.
"The afghan and matching cushion were kindly donated to the library back in 2013, intended to be raffled as a fundraiser for the new building," said Library Director Abi Ward. However, the fundraiser was put on hold upon the discovery that libraries are prohibited from applying for the license required to hold raffles.
The afghan and cushion were packed away and moved along with the rest of the library when the new location opened on Main Street in 2019.
Last week, Ward found the items in storage. She did some research and discovered their backstory. Some of the ladies who knitted the items are still residents and others are no longer here, having either moved or passed away.
Ward contacted some of the ladies who had knitted them and asked if they approved of a silent auction to raise funds for the outdoor garden space project.
The items are on display in the library next to a form where patrons can place an anonymous bid during regular hours until March 15, 2022.
"Thanks to grants from the Northern Development Initiative Trust and Health Canada, funding to build an outdoor meeting area extension and fenced children's play area on the empty lot to the south of the library (5th Avenue side) has been secured," said Ward.
These spaces will allow the Library to host outdoor events under covered spaces during spring, summer and fall months.
"We are awaiting the outcome of another grant to Tree Canada, to add some trees for shade, beauty and interest to the space, and look forward to breaking ground in 2022," said Ward. "We are continuing to fundraise to buy shrubs, and pay for professional landscaping of the area."Residents can check out the draft plans for the outdoor space at the library."