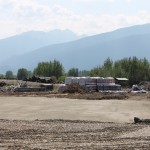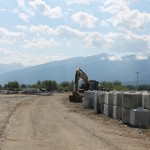 By: Chris Parker
Lakes District Maintenance is expanding their operations in McBride to help meet higher requirements for maintenance on some highway sections.
Jim Gourlay, Building Manager based in Burns Lake for Lake District Maintenance, says two new buildings will be constructed on LDM's newly acquired rail siding in McBride. The land, formerly part of the scaling operations at TRC Cedar Mill, has already been stripped and construction is beginning. Two buildings will be constructed – a 40 by 100 foot building for salt storage and a 20 by 32 foot brine production facility. Both buildings are expected to be completed by the end of October in time for the winter season, and are required partly because of the upgrade of sections of Highways 16 and 97 to Class A maintenance levels by the provincial government, announced last winter. Highway 5 and some sections of Highway 16 were already designated Class A by the ministry.
The product produced in McBride will be used on roads in LDM's local maintenance areas, from north of Blue River to Prince George and the Alberta border. It will also be shipped further west into Smithers and Burns Lake for use in that area as well. The brine takes approximately 1.5 hours to prepare a 5,000 gallon batch, and can be loaded directly onto the trucks for distribution.
Previously this was handled on a CN siding in the Tete Jaune area but as volumes were increasing with the new road servicing contract, CN asked LDM to acquire or build their own siding. The difference in cost between buying brine made by others and producing their own is quite dramatic – dropping from approximately 40 cents per gallon to five.
Gourlay says distribution of product to the LDM service areas would result in additional truck traffic and activity around the McBride area, though it will not likely result in more jobs past the initial construction.