By Andrea Arnold
---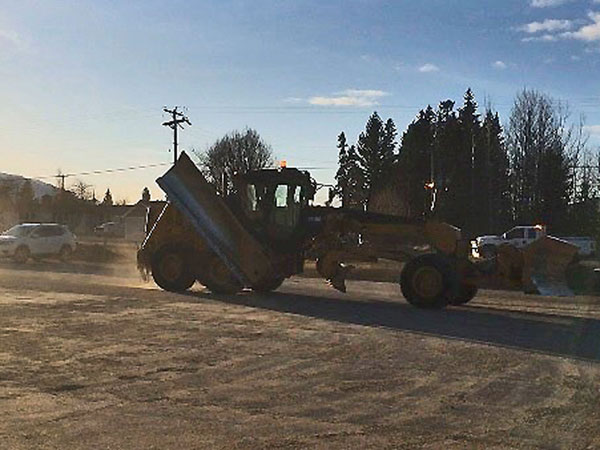 At 6:45pm on Wednesday April 15, 2020, Lakes District Maintence employees and representatives from the Village of McBride, Ministry of Transportation and the RCMP met at the LDM yard in McBride. They made their way parade-style to the hospital parking lot in time for the 7:00pm shift change. They circled the parking lot several times with lights flashing and siren blips as a tribute to the frontline health care workers in McBride.
The event was spearheaded by the provincial organization Road Builders. The group has created a committee that is focused on COVID-19 developments and initiatives. The 7:00pm shift change was intentionally selected, according to LDM Regional Office Manager Cori Funk, so that more of each location's workers would be present. Funk said maintenance contractors across the province participated at the same time.
"It was an opportunity for us as an essential service to say thank you to other essential service workers," said Funk. "We are all facing the challenges of working with changing regulations, but the health care staff are the front lines and we wanted to say thank you."
"It was a moving event," said LDM Area Manager Mike Jacques. Employees from all departments participated, he said. Machine maintenance staff drove LDM equipment, including Brian Taphorn Mechanical Operations Manager.
LDM Operations Manager Rod Saul and his wife attended from Valemount, driving their own vehicle.
"My wife was going to take pictures," said Saul. "But we both got caught up in the emotion of it all."
The moniker, "Amber Light Tribute" stems from the colour of lights that flash off the similarly coloured maintenance trucks.
Robson Valley Health Services Administrator Keltie Barlow said the event was a bit of surprise. "We very much appreciate the support of community spirit," she said. She also stated that had there been more warning, more people would have been present to witness the display of thanks as the amber lights flashed as the vehicles paraded through the parking lot.