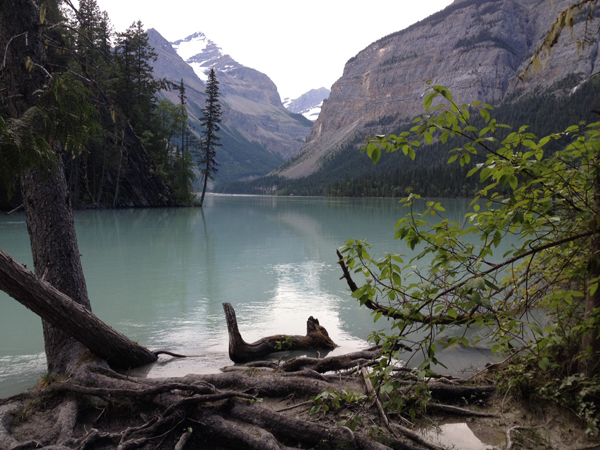 By Korie Marshall
Although I've lived here for almost four years now, I haven't yet made it up to the famous Berg Lake, but I finally made it up to Kinney Lake recently, and I was surprised by how easy it actually was.
First, I was surprised that we could actually do it after work one weekday. A friend and I left Valemount around 5 pm, and with the drive out to the parking area, a hike to the mouth of Kinney Lake and view to the first cabin and the other side of the lake and the drive back, we were home by 8 pm, with still plenty of daylight left. That is one big difference in the summer when you are this far north – the extra daylight in a day.
Second, I was actually surprised how easy the trail was. That is not to say it doesn't deserve respect – it is wilderness, next to a glacial river, and there are all sorts of potential hazards – but with good shoes, a full water bottle and some trail mix for an extra shot of energy, it was easily do-able. There is one stretch that is fairly steep, and it's hard to tell how far it might go on, but I am now confident that my aging dog can do it as well; we'll just have to take a couple breaks on that stretch.
We almost didn't go that day, because it looked like it was starting to rain here in the village. But, not being too scared of rain, and knowing how different the weather can be from one spot to another in these valleys, we decided to head out anyway and make a decision on the hike from closer to Robson. As it turned out, it was perfect hiking weather for me – just a few drops of rain, and the cloud cover cooled the air enough that I wasn't overheating. If it had still been hot, I would have needed more than one bottle of water, and it probably would have taken me longer, but we still would have had lots of daylight.
I only took one picture on my first trip up – though I recognized the spots I've seen in photos before. I enjoy taking pictures of nature and scenery, but traveling with a camera is a different experience for me, and often I like to forget the camera on my first time somewhere. That lets me actually think about the experience instead of the picture. But of course I had to snap one picture on my phone, just to prove to myself I was there.
We sort of broke a rule a little bit – the trail splits at the mouth of Kinney Lake, one side meant for horses, further away from the edge of the lake. The section meant for hiking – and obviously the views across the lake – was flooded because the river was running high, and was blocked off with marking tape, directing us to use the horse trail. Luckily, my friend had been there before, and knew where the flooded section would be. Knowing I just wanted to make it to get a good view of the lake, we slipped under the ribbon and made it to that first view point without getting caught – or getting our shoes wet!
My friend brought a heavy pack with her, because she was actually practicing for an upcoming trip into Berg Lake. I had a much smaller pack, but neither of us was winded at this point, and I am sure we could have easily made it to the other side of the lake. And we were talking the whole time, which usually makes it harder for me to hike. The truth is, we turned around at the point we did because we were hoping to make it back to town for a sample at the local brewery before it closed for the night. We didn't quite make it in time, which is why I remember we got back around 8 pm. (I wonder if the brewery may be open a little later soon?)
The hike down wasn't hard either, and we certainly met less traffic on the way down than the way up. I was surprised once more about how many cars were in the parking lot still – I guess most of those people were staying overnight.
I am looking forward to heading up again soon, and next time I'll take my camera and my dog. Dogs aren't allowed to stay overnight, so I won't be doing that trip yet, but I hear the trail past Kinney starts to get a bit steeper, and the views are even more amazing.