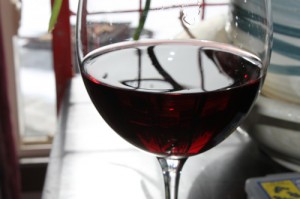 By Korie Marshall
Local businesses will be taking advantage of some of the new liquor regulation changes, but not all of them.
Both the Gigglin' Grizzly and the McBride Hotel say they'll take advantage of happy hours, but neither plan to allow minors.
The provincial government recently announced the implementation of more of the recommendations from the recent Liquor Policy Review, including allowing happy hours (but with minimum pricing); allowing minors in pubs and lounges with a special permit; allowing the sale and sampling of beer, wine and spirits at farmers' markets; and allowing hosts of Special Occasion Licenses to serve homemade beer and wine.
Sonia Carmont, manager of the McBride Hotel, says she will probably run a happy hour, though she hasn't looked at the new regulations yet. She doesn't intend to allow minors though, as the bar doesn't serve food, and she doesn't believe it would be an appropriate environment for children.
Rosanna Kolida, manager of the Gigglin' Grizzly, says she plans to implement happy hours, but also has no plans at the moment to allow minors.
"We'll see what the general response is, but right now we don't want to change the atmosphere we have," says Kolida. As a pub licence, the Gigglin' Grizzly has not previously allowed minors in the establishment.
No decisions have been made at the Valemount Hotel yet, but manager Drew Rutherford says the new laws allow the opportunity to increase business with happy hours, though he is not sure it would be a good idea to allow minors in the bar.
Another change announced that will allow customers to move freely with their beverage from one adjoining licensed area to another may help Valemount's microbrewery, Three Ranges Brewing Company. Owner Michael Lewis is in the process of applying for a lounge and patio endorsement, and he'd been concerned he'd have to hire more serving staff to bring beer from the bar to the patio. The changes may help his situation, but he's not sure there won't be some "ridiculous caveat" that still hinders his business.
Lewis says he may try taking his beer to the local farmers' market this summer, which he managed last year, if he has time, and he would be interested in taking his product to markets further away. The types of products that can be brought to farmers' markets may require approval of the market management and may also be subject to municipal bylaws, according to the government's news release.
Though he says it doesn't affect him – retail and manufacturer stores continue to be able to vary their prices throughout the day – Lewis doesn't agree with minimum pricing for happy hour drinks.
"I think they take an opportunity to fix something the people voiced their concerns about and screw it up worse with more ridiculous regulation," he says.
Minister of Justice Susanne Anton said in the release that implementing minimum drink prices is a part of the government's commitment to protect health and safety. Minimum prices are set by volume for each type of drink, and average around $3 per drink.
The government has also clarified existing wording and confirmed that restaurants can serve alcohol to customers who choose not to eat, so long as it is within food service hours, and the restaurant continues to focus on food.
To date, 17 of the Liquor Policy Review's 73 recommendations have been implemented, and the government says its goal is to implement 70 per cent of the recommendations by 2015. It says a complete re-write of the Liquor Control and Licensing Act is planned for the spring of 2015, but it is implementing a phased-in approach in the meantime. It has also updated an outdated regulation so that bachelor/bachelorette parties can now apply for Special Occasion Licenses.