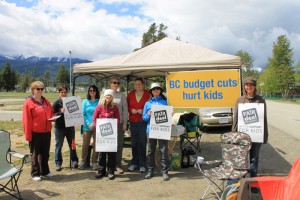 By: Thomas Rohner
Mediation attempts between the province and the teacher's union broke off July 2 with both sides blaming the other for the failure.
B.C. Supreme Court Justice Stephen Kelleher had agreed to enter into exploratory discussions with the two sides, but both the B.C. Teachers' Federation (BCTF) and the B.C. Public School Employers' Association (BCPSEA) issued statements saying the two sides were too far apart for mediation to take place.
"With the government maintaining entrenched positions that are unfair and unreasonable," Jim Iker, president of the BCTF, said in a statement, "mediation will not be able to move forward." Iker accused the BCPSEA of setting preconditions to the mediation that were "unacceptable". For example, "The government wants teachers to accept wage demands before they will even disclose their new proposals on class size and composition," Iker said.
Education Minister Peter Fassbender fired back in his own statement: "The BCTF executive would not commit to tabling a set of demands that fall in the same affordability zone as the other public sector agreements reached to date." The BCTF's demands of compensation are more than twice what other unions settled for, Fassbender said, adding their executive needs to make tough decisions to get an affordable agreement done. "There is no process and no mediator that can bridge this gap," Fassbender said.
Both sides claimed to be open to further negotiations this month, but their rhetoric sounded more like threats and posturing. "If not [in July], BC teachers will try again in August, with the new school year looming, to reengage Justice Kelleher," Iker said. Fassbender's statement said, "Let's hope that the BCTF executive does not take all summer to realize that the best possible deal…is one that lands squarely in the same affordable zone as the settlements…reached with other public sector unions."
Meanwhile, a Labour Relations Board ruling June 27 determined School District 57 did not meet the criteria for summer school. "School District No. 57 is able to provide learning options required and stipulated by the Labour Relations Board ruling during its 2014-15 school year," a message on the school district's website reads. All progress reports for students were to be mailed out by July 4, according to the website.