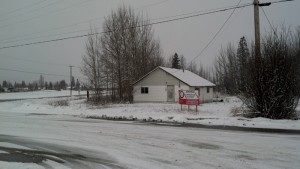 By Korie Marshall
Ground will soon be breaking for a new gas station in McBride, with plans for opening in the fall, and a Subway franchise might be opening with it.
A spokesperson from Suncor Energy Inc., owners of the Petro-Canada brand, confirmed in April that the property on the north corner of Highway 16 and Bridge Road, across from the McBride Husky station, will be a Petro-Canada station.
The new station's retail marketer Manjit (known as Manny) Dhillon, who also owns the Tempo station in Valemount and the Petro-Canada in Blue River, told the Goat he hopes to be breaking ground on the new Petro-Canada station within the next two weeks. By that time, he also hopes to have approval to open Subway franchises at both the McBride Petro-Canada and the Valemount Tempo.
Dhillon says Subway franchise representatives have already been to both sites, but if for some reason that falls through, he'll be looking for someone to open a deli-type business inside the new Petro-Canada. He says the property will have lots of parking, and extra large washrooms, as he's learned at the Valemount Tempo that long lineups for the washrooms can quickly form when a bus stops in.
Once the station is up and running, Dhillon says he plans to build either a hotel or a seniors home at the back end of the property. He has room for a 45-room hotel, if he finds there is enough demand for accommodation, but he knows there is also a need for seniors housing in McBride, so he may consider that option as well.
If things go smoothly, Dillhon says the station will be open by the end of October, and will likely be open 6 am to 10 pm throughout the winter.