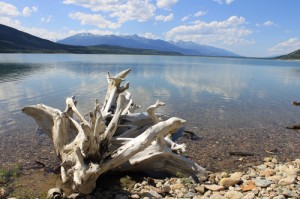 By: Korie Marshall
Two boaters, contractors working at Mica Dam, have been missing on Kinbasket Reservoir since July 7th.
The two men, Mike Murphy of Mission and Allen Healy of Osoyoos, set out from the Mica boat launch on a 12 foot aluminum boat on a calm, warm night, and have not returned.
A search and rescue mission was started after co-workers reported them missing later that night. RCMP, Revelstoke Search and Rescue, BC Hydro, and members of the families have been searching the lake and shoreline, but only minor items have been recovered, such as sandals and a cooler.
Revelstoke RCMP Staff-Sgt. Kurt Grabinski confirmed to the Goat that it is now a recovery mission, as the incident occurred over a week ago. He says the Ralston and Associates Underwater Recovery team have been searching at depths up to 600 feet with a side scan sonar since Friday, but the heavily forested and rocky terrain on the reservoir bed makes operations difficult, and the device has been caught up in flooded trees at depths of 500 feet.
Grabinski says the Ralston team is continuing to search for the bodies of the two men and their boat, with support from the RCMP Underwater Recovery team.