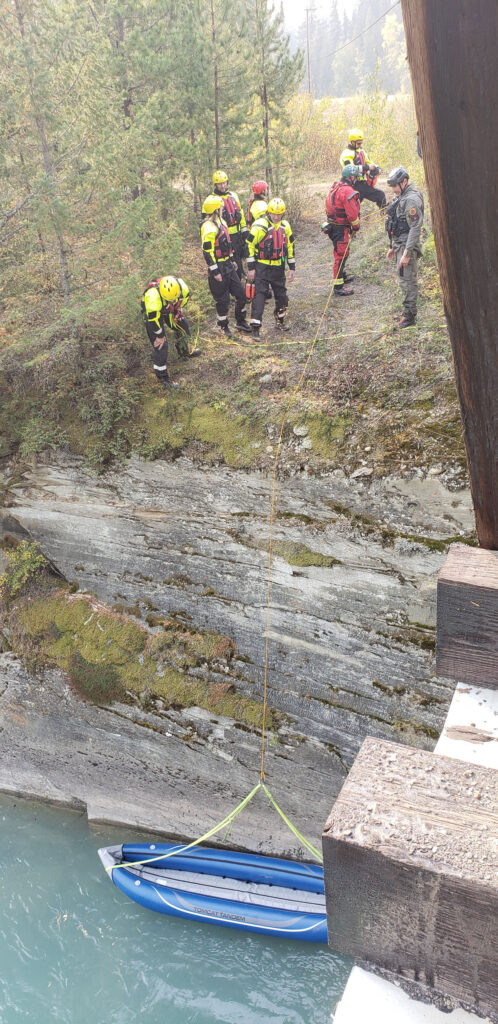 By Laura Keil
It's hard to imagine doing swift water rescue training at night, but that's exactly what a dozen members of the local Search and Rescue crew did September 8-10th.
Instructed by Raven Rescue, the crew spent the most time in the Robson River, Fraser River, Canoe River and Swift Current Creek, says one of the SAR search managers, Jeff McNaughton.
McNaughton says you have to recertify every three years and maintain your certification by doing about 20 hours of training each year. The three-day course in September will cover participants for the following year.
"Any water that's moving faster than two kilometers an hour, you have to have a Swift Water ticket," McNaughton says. "If we want to help anybody stuck on the Fraser or any of our side creeks, we have to have certification to be covered under EMBC."
He says this Swift Water Advance course focuses on swimming in up to Class 3-4 water and night rescues, as well as reviewing what they learned in the previous course.
They also used inflatable kayaks and did a bit more aggressive water.
As far as night rescues, McNaughton says their training is to do as much out of the water as they can.
"We use different coloured glow sticks to basically identify team members and gear and people that need to be rescued," he says. "It's being really conservative and a lot of spotlight searching from the shores."
"You definitely wouldn't be jumping into class three or four water at night."
Aside from lights, the gear is much the same: drysuits, PFDs and helmets.
The Local SAR does have its own jet boat, which is partly why they keep certified. Simply being on the boat requires members to be certified, according to regulations.
"What's the point of having a jet boat if we can't go on the river in it?"