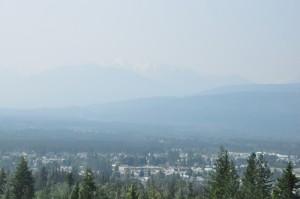 By: Korie Marshall
Even as smoke levels were dropping across the north on Friday, a blanket advisory for smoke has been issued, because levels are fluctuating so quickly.
The Ministry of Environment and the Northern Health Authority have issued a Smoke Advisory for the Omineca Region and North East of BC because of wildfire fire smoke that is affecting this area.
The ministry says if you are experiencing any of the following symptoms, contact your health care provider:
difficulty in breathing, chest pain or discomfort, and sudden onset of cough or irritation of airways. If you are experiencing symptoms, avoid strenuous outdoor activities, especially along busy traffic corridors. Exposure is particularly a concern for infants, the elderly and those who have underlying medical conditions such as diabetes, and lung or heart disease.
Ralph Adams, Air Quality Meteorologist with the Ministry of Environment, said in a news conference that smoke levels are going up and down so fast that it doesn't make sense to try to issue and rescind advisories to specific communities. As an example, the monitor in downtown Quesnel measured the highest 1-hour smoke level ever recorded in the interior of BC – 385 micrograms per cubic meter – but by three hours later, it was reading 16. Adams says that is a normal level for a summer day with no fires.
"So we've issued an advisory for an extremely large area that is not strictly based on the monitors," said Adams. On Friday July 18, at the time of the news conference, he said smoke levels have been dropping for the past few hours. He says the smoke transport models are showing a general west-to-east movement of smoke across the province, and fires are still active and growing. "It's quite likely we'll see additional smoke, and more fires."
Adams says smoke is a normal occurrence during fire season, and he wants to see the public concentrate on the health messaging rather that thinking about where the smoke is and how long it will last.
"All indications are that we are going into a bad fire season," says Adams. "it has developed very quickly, which is an indication that unless we have a significant change in weather patterns this will continue, and we should all expect there to be forest fires and periods of smoke for the rest of the fire season."
Dr. William Osei, Medical Health Officer for the Northern Interior and Dr. Charl Badenhorst, Officer for the Northeast say the advisory is for the entire Northern Health region for the rest of the fire and summer season, or until further notice. They ask that people at high risk take proper precautions, like having medication on hand, using common sense when going outside in smoky conditions, and don't wait for a further advisory. "Only in exceptional circumstances would we be required to update this advisory," says Osei.
For more information on current air quality, see: www.bcairquality.ca.