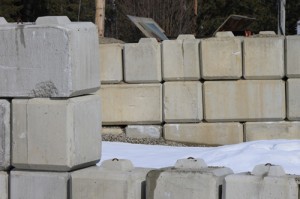 By: Korie Marshall
Rezoning for the property at the corner of Bevier and Mountain View Roads, used by Robson Valley Construction for a concrete plant, was passed at June's Regional District board meeting. The rezoning will allow the concrete business, which has been on rural-zoned property for many years, to continue to operate, although the business will have to abide by a number of conditions.
Robson Valley Construction had originally applied to rezone the property to Industrial three years ago, when it purchased the property. The company was instead granted a three-year temporary use permit which expired in March. The rezoning bylaw had been up for final reading at the February meeting of the Regional District of Fraser-Fort George's board, but the board was not yet satisfied the company could address complaints from its neighbours.
The board approved adoption of the rezoning bylaw after a voluntary covenant was recently registered on the property, listing a number of rules the company has agreed to abide by. Ken Starchuck, Regional Director for Area H, says the covenant is intended to help address the concerns of the neighbours, which focus mainly on hours of operation, noise and dust from the business and resulting trucking traffic. He says it is also intended to give the business enough flexibility to operate successfully, noting a cement plant has been in operation on the property for decades, without any restrictions. He says the current owners usually only operate the plant from April to early October.
"Hopefully Regional District bylaw enforcement will hear fewer complaints from neighbours on the owners contravening the hours of operation," says Starchuck.
Renee McCloskey, spokesperson for the Regional District, says infractions on the covenant conditions would be investigated when a complaint is received, and the district would work with the business to gain compliance. She says continued non-compliance or repeat infractions could end up with court action.
Starchuck says there were other concerns raised by the neighbours regarding about the business, including use of the access road, water use and gravel extraction but he says those issues would be dealt with by various government ministries and not by the Regional District.