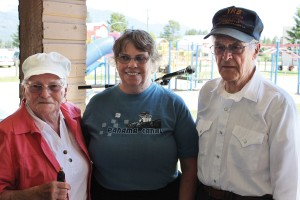 By: Korie Marshall
June 27th was the deadline for nominating a worthy person who volunteers their time, knowledge and passion in the Robson Valley for the Cheryl Sansom Citizenship Award.
Started by the Robson Valley Fall Fair Committee in the 1990's, the award was set up in memory of Cheryl Sansom who showed outstanding citizenship to the McBride area by working on the Fall Fair Committee and many other organizations around the community. Since then, the public has had an opportunity each year to nominate someone for the award, and either the Sansom family or the Fall Fair Committee would choose a winner.
When the Fall Fair Committee dissolved in 2011, the McBride and District Chamber of Commerce decided to continue the tradition the next year, says Mary Hooker of the Chamber, giving Thelma Molendyk the award in 2012, and honouring Fern and Lloyd Sansom last year. Winners get their names on a plaque in the Robson Valley Recreation Centre, and receive a brass bell as a keepsake.
The Chamber of Commerce says it is a great way to acknowledge the dedication of the many citizens of the area who work extremely hard to make McBride and area an exceptional place to live and raise families. Individuals, community groups, educational institutions and volunteer organizations are invited to nominate someone who deserves recognition for their devotion and service to the people of the Robson Valley. Nomination forms are available on the Chamber's website, at www.mcbridechamber.ca, or you can write a brief letter outlining who you are nominating and why. All nominees will be recognized on the Chamber's website, and the winner of the Cheryl Sansom Award will be announced at the Canada Day Celebrations in the recently renamed Steve Kolida Park.
Friday, June 27th was the deadline for nominations. Nominations had to be sent to the McBride Chamber of Commerce, c/o Mary Hooker, at Box 21 McBride, V0J2E0 or email info (at) mcbridechamber.ca