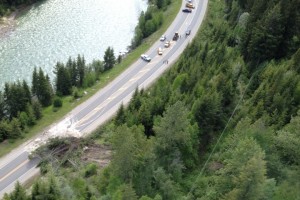 By: Laura Keil
Highway 16 remains closed in both directions about 1 km east of the Highway 5 junction near Tete Jaune Cache due to a mudslide.
On Saturday a smaller mudslide blocked the road in the same area, but after clean-up the highway re-opened to single lane alternating traffic.
Around 11:45 p.m. on Saturday, a second bigger mudslide came down. This mudslide – some 20 to 30 metres in size
– was due to a creek diverting from its normal channel and water spilled over the highway.
No vehicles were caught in the slide but the highway was closed in both directions. The estimated time of opening for the highway is noon on Monday.
Ministry operations and geotechnical staff are working to stabilize the area in order to reopen the highway.
Current detours are available via Highway 1 and Highway 97/16 through Prince George north to the Alberta border.