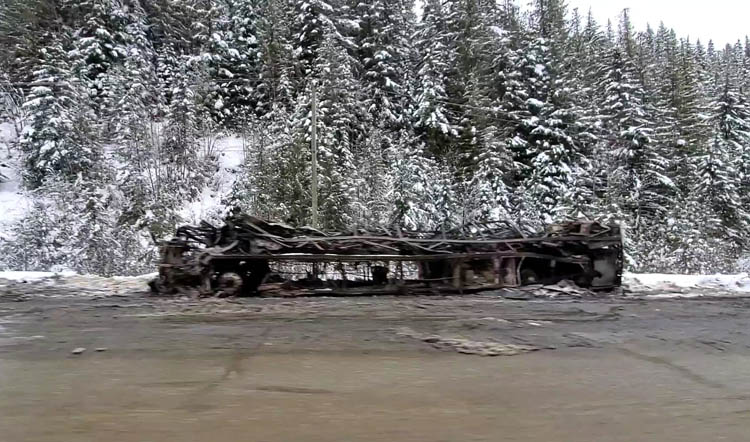 By Andrea Arnold
A collision between a semi-truck and a passenger bus with 13 people on board on Highway 16 near the Goat River bridge has left one person dead and 13 injured.
The deceased man, the driver of the semi, has been reported as a 71-year-old from Abbotsford.
While details continue to unfold, RCMP have confirmed that the bus was travelling from the Edmonton area to a location north of Prince George.
The collision occurred approx. 39km west of McBride and resulted in a lengthy highway closure beginning around 1:30pm Sat. Nov. 20th, 2021.
Emergency services from both sides (McBride and Prince George) were called to the scene.
Although the vehicles ignited immediately after contact, and were quickly engulfed in flames, all 13 individuals aboard the bus were able to escape.
Emergency responders treated 10 of the injured individuals before transporting nine by ground ambulance to Prince George hospital and one individual with more serious injuries by air. Three other individuals had already been transported to McBride and District Hospital by a passing motorist who had arrived on scene very early on after the collision. These three were then also transported to Prince George for continued care.
"While the investigation remains in the very early stages, preliminary indications are that the semi was travelling eastbound and lost control, striking the bus which was travelling westbound," said S/Sgt. Janelle Shoihet of the BC RCMP through a press release Saturday evening.
Single lane alternating traffic was opened up with flaggers on site for traffic safety early Sunday morning. Vehicle recovery and cleanup throughout the day Sunday meant that traffic continued to be single lane alternating most of the day. Crews completed the job and traffic in both directions opened shortly after 4:00pm Nov. 21st.
A collision Reconstructionist and Analyst has been called to assist in the investigation.