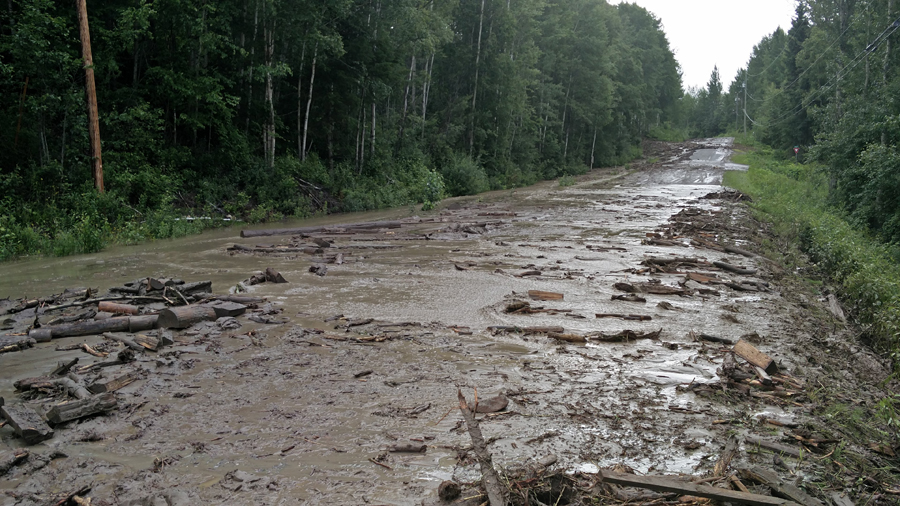 By Laura Keil with files from the Regional District
The Ministry of Transportation and Infrastructure advises there is still no estimated time for re-opening Mountain View Road near McBride which was closed due to a mudslide, debris flow and unstable roads. The event has trapped some 30 residents since early on Saturday July 4th.
The Regional District of Fraser-Fort George is requesting that the residents trapped west of the debris shelter in place and to avoid the slide area near Willox Creek. Nine homes southeast of the slide are still under evacuation order.
The Regional District says the debris-flood incident on Mountain View Road at Willox Creek continues to be monitored and assessed by the Regional District in conjunction with the Ministry of Transportation and Infrastructure, Emergency Management BC and other Ministries.
The area above the slide was assessed by a Ministry Geo Tech out of Kamloops on Saturday and they said there is a high probability of further instability that would initiate additional debris flow. As of Saturday, an estimated 25,000 cubic metres of material had flowed down Willox Creek and onto Mountain View Road.
"Once the weather clears and the area dries, the Ministry will clear the debris and open the road," said Craig Chambers, Sr. Public Affairs Officer, Government Communications and Public Engagement with the Ministry of Transportation and Infrastructure.  "The maintenance contractor has mobilized staff, materials and equipment and is ready to remove the debris when it is safe to do so."
The Regional District says it has reached out and contacted residents to assess their needs. If any residents' situations change and they are feeling vulnerable, they are asked to contact the Regional District's Emergency Operations Centre for further assistance by calling 250-960-4400 or 1-800-667-1959. Nighttime emergency medical response may be delayed. Should any resident experience a medical emergency overnight, they are advised to call 9-1-1 immediately.
The District warned that debris flows are fast moving and can be volatile and unpredictable.
Sheltering in place requires:
• Avoiding the hazard area
• Remaining in a secure location
• Checking in on neighbors
• Keeping calm and alert
• Monitoring the Regional District website at www.rdffg.bc.ca for further information